There's something commendable about the cast of Jackass and their willingness to endure pain and suffering for the sake of comedy. Sure, people farting or getting hit in the genitals with a ball isn't exactly highfalutin, but I'll be damned if I wasn't laughing. A few years ago, one of the more pretentious movie critics I actually enjoyed listening to, on the podcast formerly known as Cinecast (#32, if you want to listen in), made a surprisingly vigorous defense of the first Jackass movie. His argument is that our society is, in some ways, constructed to avoid pain, and that the Jackass guys are laudable because they intentionally attempt to do things that no one else would ever think of doing. Yeah, that's a pretty nerdy take on a movie prominently featuring poo, but it is an interesting perspective. Why do we avoid pain, and is that limiting our lives?
I just got out of Jackass 3D, and things have changed slightly. This time around, I'd say that the movie makes me wonder why society is constructed to avoid bodily waste products like vomit, urine, and feces. Oh no, wait, it didn't. But it did remind me of that defense of the original Jackass, and I wish I had some sort of crazy disgusting beer to drink right now so that I could describe the experience for you, but alas, I have no Bud Light Chelada or Crazy Ed's Cave Creek Chili Beer handy. Before taking in the cinematic wonder that is Jackass 3D, I did spend some time at another crappy sports bar… naturally, the selection was limited, but there were actually a few interesting beers on tap, so I tried out a stout, a style I've been meaning to get more acquainted with and which could potentially have provided me with a solid base for the vomit induced by the film: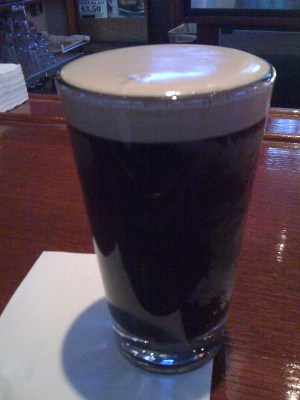 Young's Double Chocolate Stout: Pours a nice dark black color with a full, thick and creamy head that was retained for a surprisingly long time. I couldn't really pick up much in the way of smells, but the taste was a solid chocolately flavor. It was a nitro pour, so it was very smooth and creamy (it had very little carbonation) It was chocolately sweet, but it had a bitter character as well – it wasn't exactly the familiar hoppy bite of an IPA or anything, but I guess that's why they call it a chocolate stout. It has a full body, but not quite as heavy as I expected. I've never really been a big fan of Stouts and while this is certainly something I can drink, it's not something that's really converted me to a Stout fan (as winter approaches, I plan on trying out more in the style though, so I guess we'll see). It's a solid beer, probably even better than I was expecting, but it's not lighting the world on fire either. I'll give it a B
I suppose drinking a heavy, full bodied stout on a full stomach before watching the latest vomit-inducing Jackass film is somewhat daring, but unfortunately, I didn't actually throw up. I would really have enjoyed describing for you, in detail, the tastes and mouthfeel of the beer coming back up, but alas, it wasn't to be. I'm sure some of you are taking that as a good thing, but I'm thinking of myself as a failure tonight. Thanks a lot Jackass!
Beer Nerd Details: 5.2% ABV on Nitro Tap. Drank from a pint glass.