So now that I've climbed aboard the Gueuze train to sour town, I'm picking up whatever examples I can get my hands on. So far, no Cantillon or Drie Fonteinen to be found, but this one popped on my radar during my latest trip to Pinocchio's. Boon's regular Oude Geuze often seems to be referred to as a beginner's sour, and consists of 90% lambic aged for 18 months, 5% lambic aged for 3 years, and 5% "young" lambic. This Mariage Parfait version differs in that it consists of 95% lambic aged for 3 years, and 5% "young" lambic. A "perfect wedding" of new and old? Let's find out: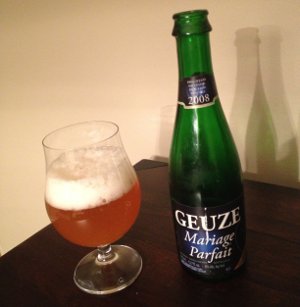 Boon Oude Geuze Mariage Parfait – Pours an orange color with a finger or two of bubbly white head that quickly recedes. Smells of funky oak and ripe fruits. Taste is sweet, with plenty of funky earth in the middle and some sour fruitiness emerging towards the finish, along with earthy oak. Mouthfeel is highly carbonated and effervescent, but crisp and refreshing. Overall, a solid Gueuze that I very much enjoyed, but not quite to the levels of Tilquin. B+
Beer Nerd Details: 8% ABV bottled (375 ml, caged and corked). Drank out of a tulip glass on 11/17/12.
My renewed interest in Gueuze and lambics in general will continue, abated only by lack of availability. Alas, I'm not able to make it to Zwanze day on Saturday, so I may have to wait a bit longer for my first Cantillon… But don't worry, Loons will be slayed. It's only a matter of time.