So we continue our tour through the swanky realm of Belgian style ales blended with a small proportion of lambic. In this case, Brouwerij Kerkom takes a less bitter version of their standard Belgian Pale Ale and blends in about 20% lambic. Sourcing details are sketchy, but rumor has it that the initial batch was from Drie Fonteinen (perhaps another consequence of the infamous thermostat incident), while subsequent batches vary. Some say Girardin, some say Boon, others say they are sworn to secrecy. The beer is named after the first beer brewed at Kerkom, way back in 1878.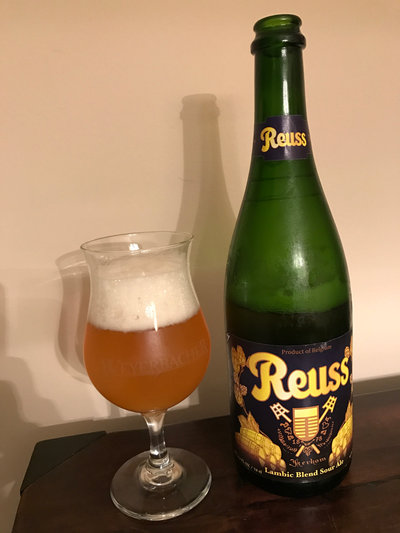 Brouwerij Kerkom Reuss – Pours a bright golden yellow color with several fingers of fluffy, big bubbled head and lots of visible carbonation. Bottle wasn't quite a gusher, but that cork came out with authority and if I didn't pour quickly, it would have overflowed. Smells quite nice, musty Belgian yeast, spicy and fruity with an earthy component and that lambic twang. Taste hits those fruity esters pretty hard, lightly tart, but it's brought into check by the spicy Belgian yeast and a bit of earthiness in the middle, finishing again on that tart note. Mouthfeel is highly carbonated and effervescent, but crisp and refreshing, light to medium bodied, very approachable. Overall, this is fantastic and strikes a good balance with the blended lambic. A-
Beer Nerd Details: 6.5% ABV bottled (750 ml caged and corked). Drank out of a tulip glass on 10/22/16. Bottled 07 04 15 (from the cork).
Kerkom actually makes a beer called Bink Grand Cru which is one of my favorite Belgian Beer Roulette discoveries, even if I haven't seen it around in a while. I should seek out another bottle of that stuff, and might as well try out some of their other offerings. They're two for two so far, s