The word "saison" is French for "season". Originally brewed in Winter for consumption during the Summer harvest, saisons were meant to provide farm hands with hydration during the long, hot hours in the field. Not because they were a bunch of lazy drunks, but because a lack of potable water meant that very low alcohol (3.5% or so) beverages were preferred for such a task. In modern times, the style is brewed year round and the ABV has risen considerably (5-8% and sometimes even higher). Basically, what this means is that the saison style makes no sense whatsoever. They are usually relatively light colored, but that's not much to go on. They can range from light bodied and refreshing, to sweet and spicy, to even sour ales.
Fantôme, a traditional farmhouse brewery specializing in saisons, has always been a bit of a mystery to me. I've managed to find a few of their beers before, but the labels weren't in English, so I had no idea what I was looking at. My first Fantôme saison was quite an eye opener. I was, by then, a big fan of Ommegang Hennepin and Saison Dupont – big spicy brews that are nothing like the sweet and tart Fantôme. I haven't quite acquired a taste for sour beers, but Fantôme's beers certainly warrant further exploration. I picked up this bottle a little while back and was quite pleased: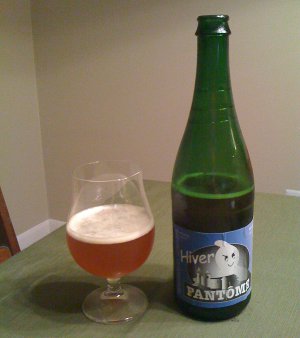 Fantôme Saison D'Erezée – Hiver – I believe this is the winter seasonal offering from Fantôme, apparently one of a series of beers focused around the 4 seasons. According to the label, head brewer Danny Prignon changes the recipe for this one every year, so I'm guessing this one is from the 2010/2011 winter (there's a place for a date on the label, but it's not filled out – the cork does have a cryptic number on it though: 086/477044, whatever that means). There are two weird things about the bottle I have here. First, it's capped, but also has a cork (that you need to use a corkscrew for). Second, the bottle is green (which provides no protection against light, the source of skunking in beer). This one is weird, since Fantôme and Dupont (traditional Belgian Farmhouse breweries that specialize in saisons) both use green bottles. Is there something about saisons that is actually open to being lightstruck (that can't be right, can it)?
It pours a little darker than I was expecting. A cloudy, light orange color with about a finger of quickly disappearing head. The smell is dominated by aromas I characterize as white wine or champagne, with just a hint of typical Belgian yeast poking through. Taste is similar to the aroma – there's white wine/champaign notes, but not overpoweringly so. There's a clear and prominent tartness in the taste, but it's not overpowering at all. It comes through more in the sweet finish than anywhere else. It's… unusual. When I start drinking, it's like my brain immediately recognizes the hallmarks of a sour beer and sounds an alarm: brace for sourness! As I said before, it does come, but it's not quite as powerful as I expected. And even stranger, I don't think that's a bad thing! Mouthfeel is well carbonated but smooth. Overall, a very good beer and a refreshing change of pace for me. A-
Beer Nerd Details: 8% ABV bottled (750 ml capped and corked). Drank out of a tulip glass on 5/29/11.
Certainly a brewery and a style that I need to explore more often.