Picobrouwerij Alvinne is a relatively new and tiny (apparently several orders of magnitude smaller than a typical micro-brewery, which is pretty small by itself) brewery in Belgium. They make the typical Belgian styles (blonde, bruin, tripel, saison), but they seem to have garnered international attention by hitting up less common Belgian styles, like imperial stouts, and by experimenting with barrel aging and blending.
My initial experience with Alvinne was with The Oak Melchior, and it was a pleasant enough experience that I picked up another bottle from their oak series. Unfortunately, this beer doesn't quite live up to the promise of that first beer, even when it comes to the abstract stuff. It's named after an obscure commune in France (rather than after Biblical fan-fiction) and "The Oak Bolleville" just doesn't roll off the tongue as well as "The Oak Melchior" (no Robert Loggia impressions needed here). Unfortunately, what's in the bottle hasn't fared so well either.
On paper, it seems like it would be great. The base beer is a Russian Imperial Stout called Mano Negra which is aged in barrels formerly used to age Cognac for 10 years and Calvados (apple brandy) for 8 years. This is the same treatment that Melchior got, and I enjoyed the results of that one fair enough. The nose had a sour twang to it, but the taste took on some interesting oak character (without any real sourness). This was unusual, but I remember wondering what the same treatment would do to a bigger, darker beer. Alas, things did not quite turn out so well: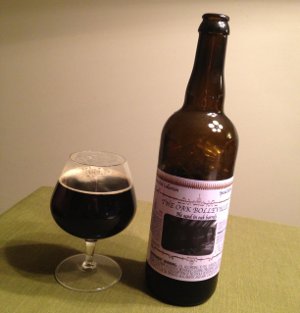 Picobrouwerij Alvinne The Oak Bolleville – Pours a very dark brown color with beautiful ruby red highlights and minimal head. Smells a little on the funky side, that prickling sensation I associate with sours comes through clearly, maybe a little oak and booze along for the ride too. Taste is sweet, with the small amount of sourness peeking through. Unfortunately, that sourness cancels out most of the other flavor that I'd expect in a beer like this. It feels like all those constituent flavors are waging a war against one another and what's left in the end is mellow and a little vinegary. Mouthfeel is distressingly thin, only slightly carbonated, a little acidic, not at all what you want out of an oak aged stout, even a sour one. Overall, it's not the worst semi-sour barrel aged beer I've had, but it's not particularly accomplished either. C+
Beer Nerd Details: 10% ABV bottled (750 ml capped). Drank out of a snifter on 10/13/12.
Alvinne still seems to be producing some interesting stuff, I'd particularly like to try their Beer Geek Wedding, though who knows if any bottles of that stuff will make it over here. So I'll give them a mulligan on this one and hope the next fares better.