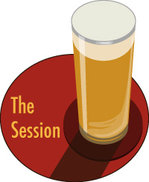 The Session, a.k.a. Beer Blogging Friday, used to be an opportunity once a month for beer bloggers from around the world to get together and write from their own unique perspective on a single topic. It's been defunct for a while now, but it's making something of a comeback, even if it's only for this one month. In the past though, each month, a different beer blogger would host the Session, choose a topic and create a round-up listing all of the participants, along with a short pithy critique of each entry. You can find an archive of previous installments of The Session at Brookston Beer Bulletin.
This triumphant return to The Session is hosted by Alistair Reece of Fuggled.net, and he basically wants to know where we're at:
… in these unprecedented times, what has become your new drinking normal? Are you drinking more? Less? Have you raided the cellar regularly? Is there a particular brewery whose beer is keeping you company while you are confined to barracks? Has there been a beer revelation in these times?
I feel incredibly fortunate right now, seeing as though my job has not changed all that much with the small exception that I'm working from home now. A lot of my job is spent collaborating with folks in other offices throughout the US and Europe, so the whole video conference thing isn't anything new for me. I'm also very lucky in that I'm a pretty extreme introvert, so the whole social isolation thing isn't a huge deal for me either. I saw someone posting their ambitious movie watching plans during quarantine, which were basically my normal (I don't know whether this is a brag or a clueless self-own; you decide!)
That said, after a solid 6-7 weeks of lockdown, I've noticed some things that I'm missing. Perhaps unsurprisingly, I miss bottle shares the most. I've managed to worm my way into a few monthly shares that are always a great time with great beer and great company, so I'm really jonesing for a share. And I obviously miss stopping in at a bar/brewery for a brew or two, even if I'm going alone. In lieu of one of our shares, a bunch of us chipped in to the local bartender corps, who are obviously unable to work these days, and I'm always on the lookout for ways to support local restaurants and bars and breweries in any way possible.
Speaking of which, I've been trying to hit up local breweries for a four-pack or three at least once a week. The primary beneficiaries so far have been: Tired Hands, Hidden River, La Cabra, and Levante. Strangely, it feels like these releases are still selling out quickly, so I'm hoping these breweries are weathering the situation well enough to survive stay-at-home orders and whatnot. That said, I'm not quite as prodigious a drinker as I once was, so I'm keeping my purchases relatively small. As I've often noticed, my eyes are bigger than my liver. Normally, I'm able to make up for that by sharing with friends, but as previously mentioned, that's not happening right now…
Still, I've also managed to dip into my cellar throughout this ordeal. Again, this isn't that far from the norm for me, but it is a good opportunity to pop open some of the heavy duty bottles that aren't everyday drinkers. All told, though, my drinking has remained mostly unchanged. In fact, since I'm not drinking out anymore, it's probably lessened somewhat.
Two other related developments should be noted. One is that I've decided to restart my homebrewing hobby, which has been dormant for a good two years now. I've got some ingredients on their way, and am hoping to have a brew day in the next week or two. I'll be making a Wee Heavy/Scotch Ale (and will be attempting some Aberlour aged oak cube action on half of that batch).
The second development is something you're reading right now. I've been blogging in general for almost 20 years and this beer blog has been going for almost a full decade. Things have been trailing off considerably in the past year or so, only posting once or twice a month on average, but things have picked up a bit during quarantine. I mean, I doubt readership is up at all, but posting rate is up and it's fun. The start of lockdown actually coincided with the last few weeks of my annual quasi-hiatus from beer, so I did manage some other fun explorations, including another iteration of my Infinity Bottle and a look at Bourbon Barrel Aged Wine.
Ultimately, I'm lucky and fortunate to be able to weather the storm, and I'm looking for ways to help out folks who need it. While I'm well suited to this sort of thing, I'm still hoping that we are able to get through this complete isolation period as quickly as possible. Best of luck to you all!