One of these days, I'll write a post covering the trials and tribulations of A Deal with the Devil, the ultra-hyped barleywine made by Anchorage. I've managed to finagle my way into a few tastes of that stuff and I'll be damned (pun intended!) if it doesn't live up to the hype. Well, mostly. Not, like, $1000 a bottle supernatural hype, but, like, normal earthly hype. To get a bottle for my lonesome, I'll likely need to make my way to the crossroads and make my own deal with the devil. Fortunately, I have connections: demons, imps, ghouls, politicians, goblins, bureaucrats, zombies, Chinese hopping vampires, and of course, other beer nerds. It will happen someday (assuming we're not still in the middle of a pandemic and in quarantine mode), but in the meantime, this newish offering is readily available and tangentially related (for, uh, certain definitions of "readily available" that include lots of cash).
Endless Ending is a blend of A Deal With the Devil (the aforementioned barrel-aged barleywine) and Darkest Hour (a barrel aged imperial stout) that has been aged for 18 months in Woodford Reserve Double Oaked bourbon barrels, then again in Missouri Oak foudres for an additional 3 Months. Unlike the last blend of beers I covered, this one seems more harmonious. Slap one of those fabulous WolfSkullJack labels on there and dip the cap in copious amounts of white wax, and you've got a very attractive package. Speaking of the art, I found this interview with the artist, and she talks about her general style and this label in particular:
Endless Ending is at the moment the only custom piece that Anchorage has purchased! They specifically wanted Dall sheep to proudly represent Alaska, and it was Gabe Fletcher's idea to have the human skeletons inside the sheep to reflect previous can art, like "Within Us" and "Origin". … The human skeletons inside of animals theme is a reoccurring image of mine because I like to explore the hostile relationship between man and the natural world within my artwork.
Neat, and the end result looks great. Of course, it's what's inside the bouttle that counts, so let's get to it…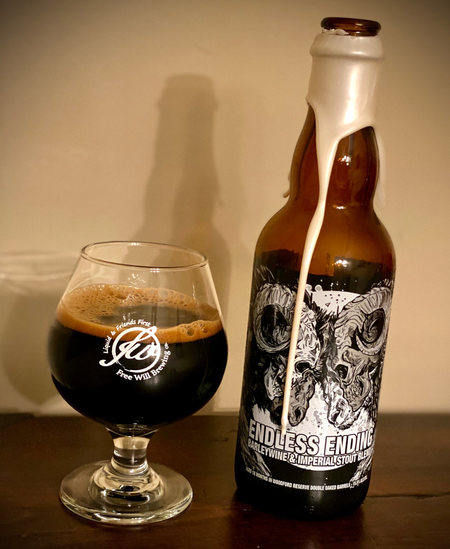 Anchorage Endless Ending – Pours a very dark brown almost black color with a finger of tan head. Smells amazing, roast, caramel, toffee, candied raisins, and that bourbon, oak, and vanilla from the barrels. Taste is extremely sweet, rich and stoutlike upfront, with the barleywine character taking over in the middle and evolving through the finish. Hints of roast and caramel up front turning to toffee and dark fruit notes, caramelized raisins with a solid backdrop of bourbon, oak, and vanilla throughout. Mouthfeel is full bodied, rich, and chewy, perfect moderate carbonation, plenty of boozy heat. Overall, a complex treat. Maybe not quite full-bore ADWTD level (this is sweeter and somehow less balanced), but still amazing in its own right. A- or A
Beer Nerd Details: 15.5% ABV bottled (375 ml, waxed cap). Drank out of a snifter on 10/18/19.
More to come on that Deal With the Devil, but this will certainly tide me over in the meantime.