There are many varieties of Fantôme, but it's always rough trying to figure out what makes each one different. Sometimes the addition is obvious or well known, but most of the time you're just left with the label's cryptic "Belgian Ale brewed with spices" (and occasionally additional "herbs"). The ghost never reveals its secrets! But sometimes you can get an inkling.
First up is this collaboration with Beancurdturtle Brewing's Daniel Fernandez, a beer consultant who collaborates with breweries and helps design and brew beers. Based in California, he seems to spend a lot of time working with European brewers like Fantôme. Ghost Turtle (this feels like a reference to something) is a typical Belgian ale brewed with spices and herbs, but when one fateful knower speculated Anise, he was shot down and told that the beer used: "No anise. Three flowers, a few herbs, and wildflower honey." Still a little nebulous, but better than nothing: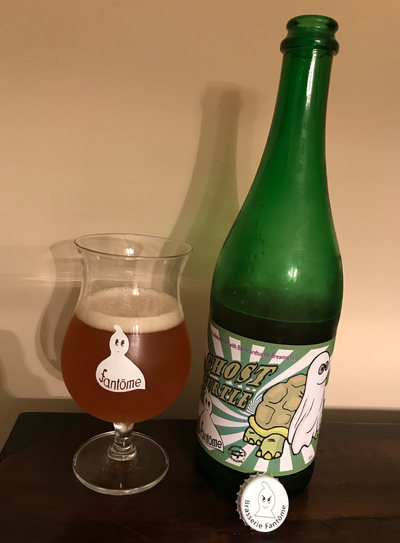 Fantôme Ghost Turtle – Pours a golden yellow color with a finger of fluffy white head that has good retention and leaves a bit of lacing as I drink. Smells great, lots of sweet, candied fruit, and that trademark tôme funk. Taste hits the saison spice notes harder than the fruity esters, with earthy funk doing its thing in the middle to finish. Mouthfeel is medium bodied, decent carbonation, pretty easy going. Overall, it's a solid little tôme! B+
Beer Nerd Details: 8% ABV bottled (750 ml corked and capped). Drank out of a tulip glass on 7/9/17.
Next up is Vertignasse, which again lists unspecified spices and herbs, but a little digging reveals that the green color (which was not quite as vivid in my bottle as some pictures I've seen) at least partially derives from spinach juice (ew? Thankfully this doesn't come off as being vegetal.) Some have also specified that this is a variant of Fantôme's Blanche, a wheat beer that hasn't been made in a while, but which makes sense (this does feel very much like a Belgian Wit). Ultimately not as good as their other Green offering (Magic Ghost), but hey, it ain't easy being green: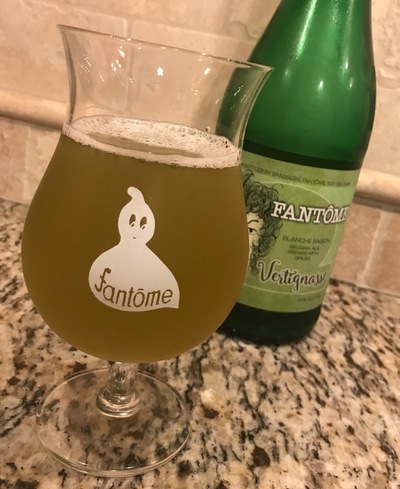 Fantôme Vertignasse – Pours a pale, yellowish green color with a finger of white head. Smells mostly of the famed and unspecified spices, but I'll hazard a guess of coriander and cloves, some of which no doubt comes from the yeast, which only bears a hint of funk. Taste is sweet and spicy, that coriander and cloves come through here too, but there's something fruity and juicy here too. It's a good mixture of flavors. Mouthfeel is a little light on the carbonation, but in a way that works, light bodied but not something you necessarily want to chug. Overall, a nice, complex, and light saison that is unique, which is saying something from this brewery. A-
Beer Nerd Details: 4.5% ABV bottled (750 ml corked and capped). Drank out of a tulip glass on 7/16/17.
So there you have it, two new Tômes that have at least partially been explained. But one can never be truly sure what a Ghost consists of… As Dany likes to say: Secrets, secrets. Up next on the Tôme front is the new batch of Été (which, as I understand it, is drastically different than the last one I managed to procure) and a Ghost I'm going to save for Kaedrin's annual Six Weeks of Halloween marathon!