Booker's is one of Jim Beam's four small batch products (the others being Knob Creek, Baker's, and Basil Hayden) and it has a reputation of being the best thing Beam makes. That being said, it doesn't seem to be the topic of much conversation (except for an ill-advised price increase that was walked back recently), perhaps because it's been around for a while, perhaps because it's actually available and you can find it on the shelf. We all know that rarity makes things taste better, so this is a truly black mark on Booker's.
In the 1980s, the first bottles were hand-made Christmas Gifts from Beam master distiller Booker Noe and were so popular that it was made an official, publicly available brand in 1992. Upon his retirement, he left instructions with his son to not let anyone "mess with my Booker's." Indeed, little seems to have changed with his namesake Bourbon – it's still 6-8 years old, unfiltered, and cask strength (usually pretty high-test stuff too).
This particular bottle clocks in at 128 proof, which is a nice flammability factor for sure. Each batch gets its own little pet name these days too. This one is named "Bluegill Creek Batch" because the bottling day was particularly hot and humid and Fred Noe (Booker's son and successor to the master distiller role) was reminded of days spent fishing a creek for bluegill with his father. Sounds nice, so let's dive in: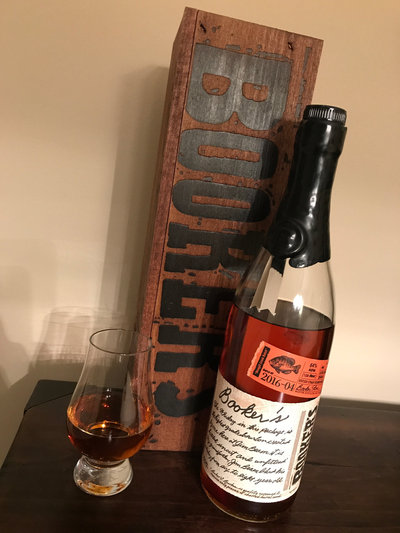 Booker's Bourbon – Pours a clear golden orange color, nice legs. Smells intensely of oak with some caramel and vanilla pitching in, some earthy tobacco type notes too. With water, some cinnamon spice emerges. Taste is rich and sweet, lots of caramel, toffee, oak, and vanilla, some spice kicking in too, maybe cinnamon? And booze, tons of booze. Mouthfeel is full bodied, rich, and yes, boozy af. I mean, yeah, I have a baby beer palate, but this is pretty tough. But tasty, and not the worst heat I've experienced. A little dry in the finish as well. Overall, a little hot, but it's a really good bourbon. Worth the current pricetag, but maybe not if they pump it up to $100… B+
Whiskey Nerd Details: 128 Proof, 64% ABV bottled (750 ml). Drank out of a glencairn glass on 4/1/17. Batch #2016-04 "Bluegill Creek Batch". Age: 6 Yrs 5 Mo 28 Days.
Beer Nerd Musings: I haven't had anything specifically marked as a Booker's Bourbon barrel aged beer and I don't see many out there either. Allagash apparently made a Booker's aged variant of their Curieux, but I must admit, the tripel style is not my favorite way to showcase a bourbon barrel treatment. Still, I'd assume this would make for a pretty good barrel for beer aging… but then, what wouldn't?
Fellow Travelers: Some other folks who've grappled with Bookers:
Another cask strength monster bourbon review coming tomorrow, so stay tuned!