Presumably because my limited sorties into Vermont have all occurred in summer months, most of my acquisitions have been IPAs or Saisons. Obviously the hop fetish is a year round thing (that isn't particularly limited to VT either), but it seems that the colder months of the year are accompanied with some bigger, heavier, darker beers. Aside from Hill Farmstead's Everett (of things labeled "porter", I'd probably put this at the top of the list) and their Society & Solitude #2 (another contender for best in style, this time the waning Black IPA), my exposure has been limited. Until now!
Lawson's Finest Liquids makes a big, burly imperial stout using almost two gallons of VT maple syrup per barrel. This base beer has been given a variety of barrel-aged treatments, and what we have here is the Apple Brandy variant (no provenance on this bottle, though previous releases have specified Lairds or the more local Mad River Malvados). The base is presumably named after the town of Fayston, VT, itself honoring the Fays, a family that figured prominently in the founding of VT. The label sez this beer is "Made for sub-zero nights and pairing with decadent desserts." Well, it was around 19°F when I drank this, so that will have to do (though, come to think of it, that does translate to -7°C, so take that, pedants!)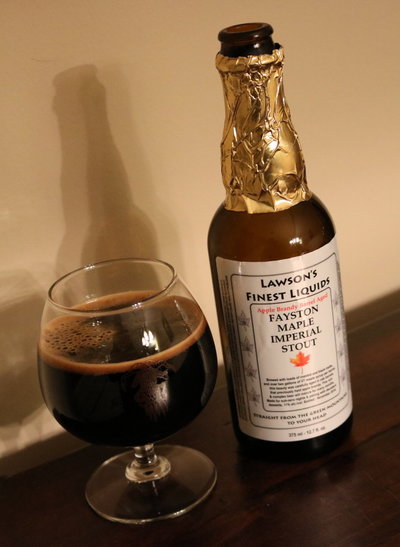 Lawson's Finest Liquids Apple Brandy Barrel Aged Fayston Maple Imperial Stout – Pours black with a half finger of brown head. Smells of roasted malt, vanilla, oak, and maple syrup. Taste hits some rich caramel notes up front, leavened with roast in the middle, oak and vanilla, hints of booze (not bourbon, but not really recognizably Apple Brandy either), maple syrup and roast finish. As it warms, it gets a little sweeter and the maple comes out more. The brandy emerges more too, though I'm still not getting any specific apple notes. Mouthfeel is full bodied, rich, and chewy, low to moderate carbonation (appropriate for the style), a bit of booze. Overall, this is fantastic! A
Beer Nerd Details: 11.1% ABV bottled (375 ml). Drank out of a snifter on 1/7/17. Bottled November 2016.
This was a Christmas present from an awesome person, so thanks Adam! Lawson's Finest Liquids continues to impress, so I will most certainly be seeking out more from them, hopefully sooner than later…