Tröegs has a series of experimental Scratch beers that are always interesting, sometimes confounding, and occasionally fantastic. Rare offerings have graduated into the standard lineup, like Flying Mouflan. Some have come and gone, and still others have made repeat appearances, but only in the limited Scratch series batches.
¿Impending Descent? was first made back in 2012 in honor of (or perhaps to spite) the (long since lapsed) Mayan apocalypse, and I absolutely loved that initial offering. Each subsequent year (on Black Friday), they've released another Scratch beer called Impending Descent, though each appears to have been a tweaked recipe. Last year's version, for instance, only clocked in at 9.3% ABV (while the original was 11.9%). Regardless, in accordance with my insatiable desire for local Bourbon Barrel Aged stouts, I've been pining after a BA version of this beer ever since that first taste. With the expansion of Tröegs' Splinter program, I've finally gotten my wish.
So we've got the standard Impending Descent base (which I'm assuming was the same batch as the 2015 Scratch release) with vanilla bean and cocoa added and then aged in Bourbon Barrels for a year. I didn't take notes, but I happened to have one of the regular 2015 Scratch beers on hand, so I tried that earlier in the week. It's held up well, with the major change being that the hops have gone piney and resinous, as they tend to do with age. This follows through on the barrel aged version, which is quite nice, but let's take a closer look, as this descent has been impending for quite some time: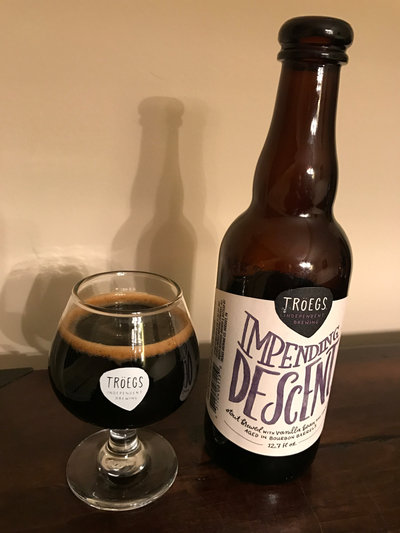 Tröegs Bourbon Barrel Aged Impending Descent – Pours a very dark brown color, almost black, with a finger of light brown head. Smells quite nice, barrel aging apparent, plenty of bourbon, oak, and vanilla, some caramel, some roast, and some piney, resinous hops (which is definitely a result of aging – Impending Descent doesn't have that note when fresh). Taste hits some rich caramel notes, lots of roast and chocolate, with the barrel lending the typical boozy bourbon, oak, and vanilla character, and again you get those aged, piney, resinous bittering hops. Mouthfeel is full bodied, rich, well but appropriately carbonated, a good amount of booze. Overall yep, it's really good! Maybe tone down the hops a bit, but I like it a lot as is… Not going to be a BCBS killer, but would be curious to see how it develops. A-
Beer Nerd Details: 12% ABV bottled (375 ml caged and corked). Drank out of a snifter on 11/25/16.
Glad I made the trip out to Hershey to grab this stuff, though I'm pretty sure it will hit distribution. Worth seeking out, and the price is certainly right (especially compared to that other Black Friday release everyone goes bonkers over, even if I don't think this one quite defeats BCBS). Certainly looking forward to future iterations on this, and the continuing expansion of the Splinter series. Nothing on the immediate horizon, but I'm sure it won't be long before we're reviewing more Tröegs…