Alright folks, you know the drill: Blah blah blah, blended, barrel-aged, Voltron-esque super beer. Blah blah blah, collaboration with local wineries. Blah blah blah, delicious. We've covered each edition of this beer since XV, so while there's lots to be said about the process here, I've pretty much already wonked out on everything worth wonking out over.
Each installment in this series of Anniversary blends varies considerably. Some veer towards the Barleywine components, like XV and XVII, others hew closer to the dark side, like XVIII and XIX. XVI went for more balance between those two poles (as a result, it might be my least favorite, actually). So what does the XX blend look like?
40% Parabola (13% ABV) Russian Imperial Oatmeal Stout. Aged in New Oak and Bourbon Barrels.
20% Stickee Monkee (12.3% ABV) English Barley Wine. Aged in Bourbon and Brandy barrels.
17.5% Velvet Merkin (8.5% ABV) Traditional Oatmeal Stout. Aged in Bourbon barrels.
12.5% Bravo (12.9% ABV) Imperial Brown Ale. Aged in Bourbon Barrels.
10% Helldorado (13.5% ABV) Blonde Barley Wine. Aged in Bourbon Barrels.
So this is one of the more stout-like blends out there, with 70% hitting the dark side of the force. In any case, any blend consisting of 40% Parabola has to be pretty good, right? Let's take a closer look: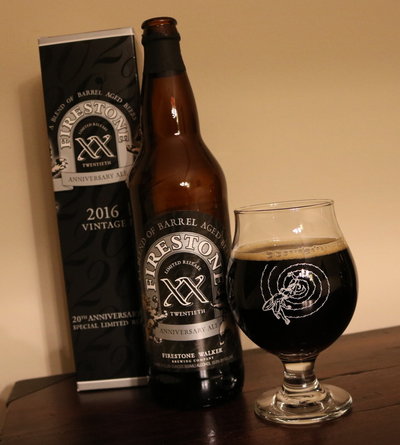 Firestone Walker XX Anniversary Ale – Pours a very dark brown color with half a finger of light tan head. Smells beautiful, rich caramel, vanilla, oak, boozy bourbon, hints of roast and chocolate. Taste hits those rich caramelized malt notes hard, hints of roast, plenty of bourbon, oak, and vanilla. Mouthfeel is full bodied but nimble, not a beast like most imperial stouts of this ABV, well carbonated, a little pleasant booze in the finish. It feels like the barleywineish components of this blend have lightened the body and hidden the booze a little more than normal for a beer this big, a neat little trick. Overall, yes, it's another winner for the Anniversary blends! A
Beer Nerd Details: 13% ABV bottled (22 ounce bomber). Drank out of a tulip glass on 12/20/16.
There's just no stopping Firestone Walker's barrel program. I look forward to this release every year, and it has never disappointed. Indeed, pretty much any of their barrel-aged, boxed beers are fabulous and I'm always on the lookout. Lately, more of their wild ales have been showing up in the Philly area, like Agrestic and Lil Opal, so here's to hoping for more of that in the future too.