After last year's Dark Wednesday introduction of Java Cask (a top tier bourbon barrel aged imperial coffee stout, at least when it's fresh – the coffee drops off a cliff after a few months or so, which is actually a welcome development for coffee ambivalents like myself, but I digress), they decided to let it ride with another batch this year… plus a variant! Alas, not the "non-coffee" variant I dream about, but rather a Rye barrel aged version.
At first glance, this seems like a pretty minor tweak. Rye whiskey can be very different than bourbon, but it's not that much of a leap, especially considering that it will have to stand up against strong adjuncts like coffee. It turns out that Victory used a different strand of One Village coffee for this one, and the use of Bulleit Rye casks does genuinely impart a distinct character. The resulting beer is almost 2% lower in ABV, but still fabulous. Just to signal my neckbeardedness, it's a brewpub exclusive, and limit of 4 bottles per person. Bill Covaleski was even signing bottles! Let's do this thing: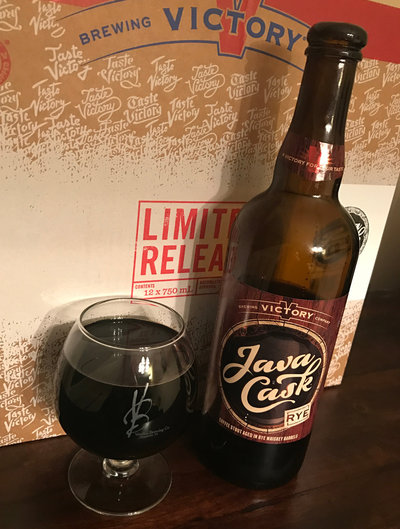 Victory Java Cask Rye – Pours a dense, very dark brown color, almost black, with almost no head. Smells of, yes, roasted coffee, but also chocolate, oak, and vanilla. Taste starts off sweet, caramel and dark malt, coffee comes out in the middle followed by a nice, spicy rye character that is actually distinct from regular Java Cask. Mouthfeel is full bodied, rich, and chewy (if perhaps a little less so than regular Java Cask), moderate carbonation, plenty of warming booze too. Overall, it's another winner… perhaps not quite at original Java Cask level, but close enough and a worthy variant. A-
Beer Nerd Details: 12.5% ABV bottled (750 ml caged and corked). Drank out of a snifter on 11/23/16. Enjoy By: 17 Nov 2017.
Supposedly, Java Cask original recipe is making the distribution rounds, so if coffee stouts are your thing, make the effort. I hold out hope that Victory will do a non-coffified version someday. As it was, they had a fabulous firkin of Java Cask with vanilla and cacao that was, well, fabulous. I believe I said that already. Jeeze guys. Anywho, Victory has also been teasing something called Victory Red, a Flanders Red style beer that's been in the works for three years. Color me interested. Stay tuned.