I've generally enjoyed 2SP's offerings, but their limited bottlings have been a bit less consistent for me. This is partly due to style choices that just didn't quite align with my general preferences. Hardly a crime and it's been amply established that I'm the worst, so I've been lagging behind on their releases. Enter these two bottles, much more to my taste.
The first is an English Strong Ale aged in rum barrels for 12 months. This is the longest they've managed to barrel age a beer to date, and it sounds delicious. The second is a bourbon barrel aged imperial porter. Aged for 10 months in Jack Daniels, Jim Beam, and apparently a single barrel 1792 bourbon barrel that originated from local Kaedrin favorite Teresa's Cafe (I've never gotten the 1792, but I've had some of their other single barrel picks and they've been good!) These both sound delicious, lets dig in: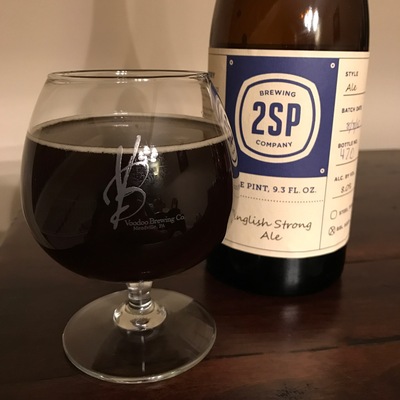 2SP Rummy Sticks (Rum Barrel Aged English Strong Ale) – Pours a very dark amber brown color with a quarter finger of fizzy head that quickly resolves to a ring around the edge which manages to stick around a bit longer. Smells of… banana? Definitely rum, oak, dark fruits, molasses, but yes, banana too, interesting. Taste is a little less complex than the nose would have you believe, but it hits similar notes, just not as hard. Sweet, dark fruit, rum, oak, molasses, and sure, banana, why not, maybe some noble hops going on too, not really bitter, but the finish balances out some of the upfront sweetness. A little more rummy booze shows up as it warms too. Mouthfeel is medium bodied, finely carbed, perhaps a bit too thin for a Rum barrel-aged approach, but it comports itself well. Overall, a definite improvement over recent bottles, but still not quite a home run… B+
Beer Nerd Details: 8% ABV bottled (750 ml). Drank out of a snifter on 11/19/16. Bottle No. 470. Batch Date: 8/8/15. Released: 11/4/16.
2SP Bourbon Barrel Aged S.I.P. (Stigz' Imperial Porter) (Teresa's 1792 Bourbon Barrel) – Pours a dark brown, almost black color with half a finger of off white head. Smells of roasted malt and fudge, a little oak and bourbon. Taste is sweet, hints of roast, bourbon, and oak, a little vanilla. Mouthfeel is medium bodied, well carbonated, pretty easy going for a bourbon barrel aged porter. Overall, it's pretty good, but not top tier. B+
Beer Nerd Details: 8.5% ABV bottled (750 ml). Drank out of a tulip glass on 11/19/16. Bottle No. 075. Batch Date: 10/14/15. Released: 9/30/16.
So these are definitely more to my taste than the past couple releases, but still haven't quite breached that top tier. That being said, these are certainly good enough to continue hunting down…