New Year's Eve has emerged as a time to drink lambic. At least, for me it has. So we cracked a couple bottles, and I found this to be the more interesting of the two. It's a very strange beer. It's a collaboration between Gueuzerie Tilquin and Brasserie Artisanale de Rulles wherein Tilquin blended 7/8 of La Rullés Brune with 1/8 of 1 year old lambics from Tilquin's stores (Tilquin does not brew their beer, but they do age and blend it) and then aged the result in barrels for 8 months. Truth be told, I almost didn't notice it sitting on the shelf because the (rather nifty) label blends the two collaborators' artistic styles (though not proportional to the blend of beer, but if they did that, Tilquin would get almost none of the label!) Tilquin used to be reliably available, but has been getting more scarce lately, so my eyes always perk up with I see their distinctive labels. We did it, you guys! We made another great beer hard to find!
This actually marks the second time I've had this beer, but the first time was at a share and I only had a small taste. At that time, I found myself pleasantly surprised by how much the lambic came through. I mean, it was clearly a toned down character, but it was prominent and quite tasty. I had already procured this bottle and became quite excited at the prospect of getting a full pour. Then a curious thing happened. This bottle tasted different. Still good, but perhaps not as well balanced as the first pour. That or my palate was just way off that night. Regardless, it's still quite an interesting beer, and I wouldn't mind snagging a bottle and putting a little age on it to see how it fares. Until then, we're left with this: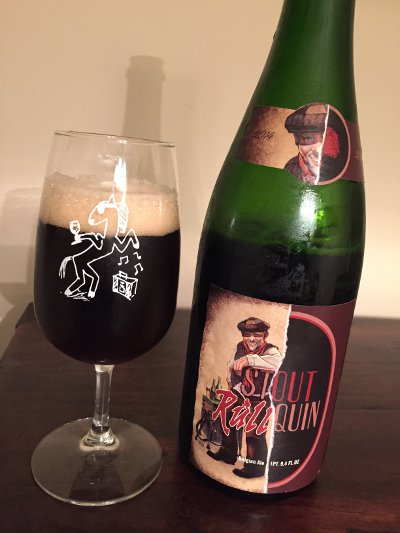 Tilquin/Rulles Stout Rullquin – Pours a deep dark brown color with amber highlights and a couple fingers of tan head. Smells musty, maybe some toasty malt character, definitely some straight Belgian yeast going on here, but you get hints of twangy funk in there too. Taste starts off like a Belgian Strong Dark Ale, spicy, bready Belgian yeast, hints of toasty malt brightened by that funky lambic addition. It's not as big of an influence in this bottle as the last one I had, but it's there. Mouthfeel is highly carbonated and effervescent, medium bodied, pretty easy going. Overall, it's an interesting beer, and both times I've had it, it wasn't what I expected… but it was good nonetheless! B+
Beer Nerd Details: 8% ABV bottled (750 ml caged and corked). Drank out of a flute glass on 12/31/15. Best Before: 31/03/2025. Released: September 2015.
Tilquin's Gueuze was the beer that made me see the light when it comes to sour beer, so I'm always on the lookout for their stuff. Would really love to try the blackberry lambic they recently made, but who knows when that will show up (and when it does, I'm sure it'll go quick).