What is the snowman's weakness? There's probably a better way to ask that question, one which does not imply that snowmen are monsters we must defeat by exploiting some sort of weakness, but the answer is obvious: heat. One might think that this sort of thing would also populate a snowman's dreams… or nightmares, if you will. But then I remember that Hans Christian Andersen wrote a story called The Snowman in which a snowman falls in love with a stove. So maybe snowmen don't fear the heat. Then again, like most actual fairy tails, this one comes to a tragic end: the snowman melts and is forgotten by those who made him. It's speculated that Andersen was inspired by a short love affair with a "handsome young dancer" that resulted in "pining and discontent". Well this post went in a dark direction, so let's drink an Old Ale from Conshohocken Brewing Company, a newish (couple years old now) local brewery near my old stomping grounds. I've had a few things from them, but never really made the time to visit. This beer was made in 2014 and released near Christmas in 2015, truly an "old" ale.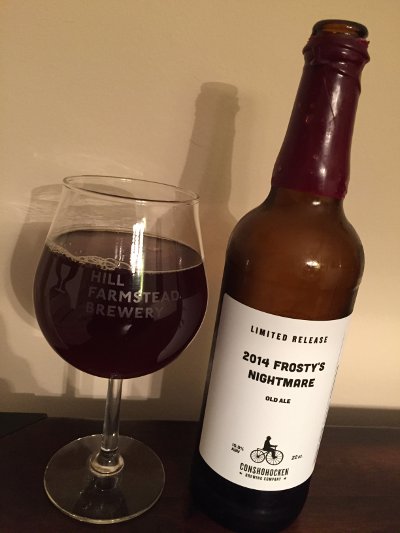 Conshohocken Frosty's Nightmare – Pours a dark amber brown color with just a cap of off white head. Smells of dark fruits, figs, crystal malts, maybe some toffee. Taste starts with light caramel and dark fruit, a little booze, malts, finishing up with booze soaked fruit. Mouthfeel is medium to full bodied, chewy, tightly carbonated, a little boozy heat, feels a bit unbalanced. Overall, this is a nice old ale, not going to light the world on fire, but decent. B
Beer Nerd Details: 10.9% ABV bottled (22 ounce bomber). Drank out of a charente glass on 1/16/16. Vintage: 2014.
Supposedly they had a tequila barrel aged version of this on tap at the brewery, which actually might represent a significant improvement on this. I could see the base being a good platform for barrels of many kinds, actually, but then, I would think that because I'm a barrel freak. I'm the worst.