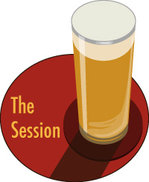 On the first Friday of every month, there's a beer blog roundup called The Session. Someone picks a topic, and everyone blogs about it. This time around, I'm hosting a discussion on Double Features:
So your mission, should you choose to accept it, is to drink two beers, compare and contrast. No need for slavish tasting notes, but if you want to, that's fine too. The important part is to highlight how the two beers interact with one another during your session (pun intended!) For extra credit, pair your beers with two films to make your own Double Feature. Now, I'm a big tent kinda guy, so feel free to stretch this premise to its breaking point. The possibilities are endless!
Endless indeed, hence I'm going to post at least two double features this week in anticipation of the big event on Friday.
First up, a double feature of convenience. Longtime readers know I'm a big fan of San Francisco's Almanac Beer Co. and while I've been able to snag a bottle here or there through means, they've just recently started distributing to the Philadelphia area in earnest. As such, every time I go to the store, I find myself drawn to purchase another of their delicious beers I've not had before. A hearty welcome to Pennsylvania from all of us (i.e. me) here at Kaedrin: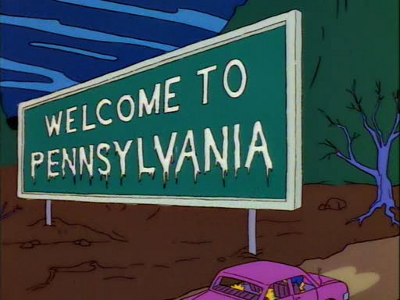 Anywho, here are two beers I cracked open this weekend whilst viewing a bunch of horror movies in honor of Halloween (notably Trick 'r Treat and Ghostbusters, neither of which are particularly well suited to the beers I'm drinking except that, well, they're all quite good!) First up is Citra Sour, the first of a new series of single hopped sour beers (up next is Simcoe Sour), an interesting fusion of styles that has never quite caught on, but which might if efforts like this keep things going. Truth be told, I think I prefer the straight up fruited sours moreso than hopped sours, but variety is a good thing, and this is pretty tasty.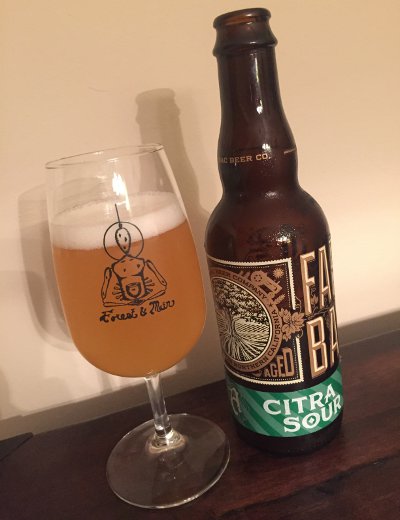 Almanac Citra Sour – Pours a cloudy straw yellow with a finger of white head that sticks around for a while. Smells… interesting, that Citra hop character is prominent, floral citrus notes, but an underlying sour twang is there as well. Taste is a good deal more vinous than the nose would suggest, clearly those wine barrels kicking in, and the oak features prominently as well. The Citra hops do kick in about halfway through and persist through the sour finish. Quite puckering, actually, I think the hops only serve to intensify the sourness. Mouthfeel is well carbonated, light, bright, and quite acidic. Overall, I'm still not convinced that high amounts of hops are a great match with sour, but this is still rather nice. B+
Beer Nerd Details: 7% ABV bottled (375 ml). Drank out of a flute glass on 10/30/15. Bottled July 2015.
After letting the palate cool off for a bit, I cracked open Farmer's Reserve Citrus, which I believe is the same base Sour Blond Ale aged in wine barrels, but instead of hops, we've got a melange of citrus fruits, including Buddha's Hand Citron, Blood Orange, and Yuzu. The Farmer's Reserve stuff have been my favorite offerings from Almanac, and this one did not disappoint: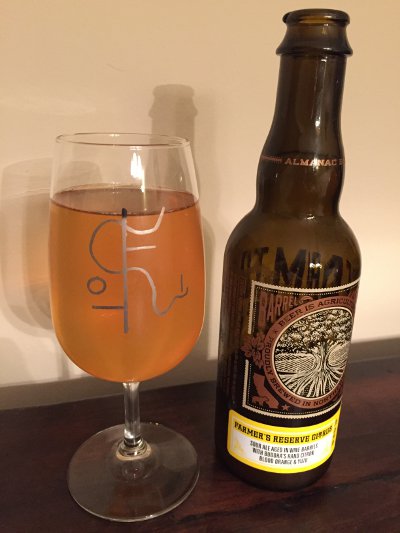 Almanac Farmer's Reserve Citrus – Pours a mostly clear golden yellow color with a finger of short lived white head. Smells more funky, some citrus and sour twang, but some earthy Brett character pitching in here too. Taste again hits with that earthy, musty funk, lots of tart citrus fruit, a little wine barrel, oak and vanilla, and finishing with a nice sour bite. Mouthfeel is slightly less carbonated, still light and bright, the acidity feeling a bit less intense too. Overall, this is not quite as intense, but it is much more balanced than the Citra Sour. A-
Beer Nerd Details: 7% ABV bottled (375 ml). Drank out of a flute glass on 10/30/15. Bottled June 2015.
So there you have it. Next up in the Double Feature realm will be a much more harmonious beer and filmic pairing centered around Wes Craven. Stay tuned! And if you've got a blog, feel free to play along. More details on The Session and how to participate can be read here!