The Kaedrin beer cellaring program, also known as that shelf in my basement, is getting out of hand. As such, I think it behooves us to dip into some of these well aged bottles and see how they're doing. Tonight we tackle a bottle that we've intentionally aged for a while, The Bruery's third anniversary ale, Cuir (French for "leather", corresponding to traditional wedding gifts). This series holds a certain sentimental value for me, so the Kaedrin cellarman always ensures I have a bottle to age each year. We know from experience that these age reasonably well, though at 4ish years old, this represents the oldest Bruery Anniversary beer I've had yet.
2011 was also the last year where only a portion of the standard release was aged in bourbon barrels (25% of this bottle was BBA, though there was a 100% BBA version that the cool kids got to drink), so I expect the fruity aspects to come out more than the recent, more Bourbon forward entries. I won't rehash the pedantic Solera discussion yet again, but it is one of the more interesting long-term projects going on in the beer world these days. Clocking in at 14.5% ABV, this is a bit of a project to take down, but it's a delicious project and certainly more manageable than the recent 16+% ABV entries. I actually wonder if it might be beneficial to do another blending year in order to keep the ABV in check, and allow for some additional complexity. Anywho, enough preamble, let's get down with some swanky leather sugar water: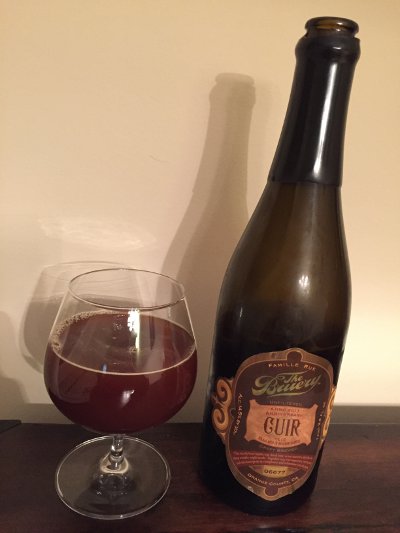 The Bruery Cuir – Pours a deep, murky brown color, maybe some robey tones if you look at it right, and just a cap of slowly-forming, off-white head. Smells deeply of dark fruit, plums, raisins, caramel, toffee with just enough oak and vanilla to offset the fruit and malt. Taste starts off sweet, with rich caramel, toffee, vanilla, and oak, but those dark fruit notes come through strong too, maybe some chocolate covered fruit caramels or something like that (do such glorious things exist?), hints of unidentifiable spice (cinnamon?), finishing with a bit of booze and that fruit. Mouthfeel is full bodied, rich, and chewy, low to medium but perfectly calibrated carbonation, some sticky sugary qualities, a bit of boozy heat but it doesn't quite feel as strong as it is. Overall, this is a beauty, rich, intense, and complex, but it's right up my alley. It's definitely showing its age, but hasn't started a decline just yet. A
Beer Nerd Details: 14.5% ABV bottled (750 ml black waxed cap). Drank out of a snifter on 10/23/15. Vintage: 2011. Bottle Number: 06677.
A delicious trip into the cellar. More are sure to be coming in the near(ish) future, so stay tuned…