According to my record-keeping gnomes, I have reviewed beers from 318 breweries (check them out over there on the right of the page), which sounds like a lot and also like I should seek professional, medical help, but given that the good ol' USA has surpassed 4000 craft breweries (not to mention non-craft and imports), I've barely scratched the surface. To the procurement department! These folks are always busy here at Kaedrin, such that we often collect too much beer, but they also keep their eye out for breweries that are new to me and that are putting out interesting stuff.
Enter Mother Earth Brew Co., a San Diego area brewery that friends have nice things to say about, but which I know almost nothing about. Everyone seems charmed by their IPAs, but we thought we'd check out their barrel program, because we're like that. Four Seasons of Mother Earth is a quarterly release roughly aligned with the various equinoxes and solstices, and every release is different. Last year's Autumn release was a BA stout, this year it's a Bourbon Barrel Aged Quadrupel. There's some florid description about "Johnny Law" on the back of the bottle, but barrel aged quad? Procurement department done good: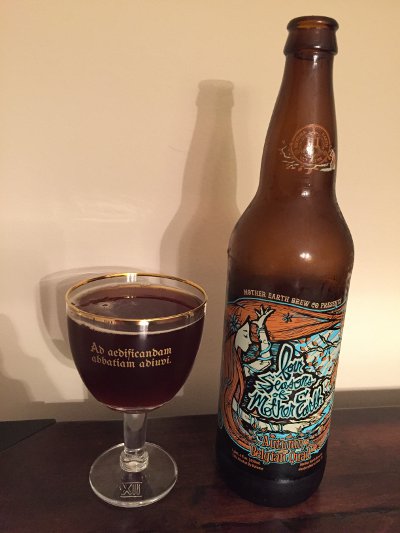 Mother Earth Four Seasons Of Mother Earth – Autumn: Johnny Law – Pours a murky amber brown color with a cap of head that is short for this world. Smells utterly fantastic, boozy bourbon and oak, rich caramel, toffee, dark fruit, vanilla. Taste feels a bit muted compared to the nose, but the flavor profile is similar. Caramel and toffee, but not nearly as rich or sweet as you'd expect from the nose. Not as much dark fruit either, but it's there. Bourbon, oak, and vanilla, but surprisingly balanced, maybe more booze emerges as it warms up. Mouthfeel is medium bodied and surprisingly dry, only a hint of stickiness in the finish along with a little boozy heat. Overall, quite an interesting brew, I usually think of dry belgian ales as not working so well with bourbon barrels, but this one bucks the trend, even if it's not necessarily top tier. A high B+
Beer Nerd Details: 12% ABV bottled (22 ounce bomber). Drank out of a tulip glass on 10/9/15. Vintage: Autumn 2015.
Certainly a good first impression, and clearly I need to try out more of their stuff. Also of note, a NC based brewery of basically the same name. I smell epic legal showdown in the future.