During this, my most favoritest of seasons, I like to tie one on whilst watching horror movies. I try to select appropriate beers to match what I'm watching (for instance, last week's Pumpkin beer jamboree was paired with a trio of cheesy Larry Cohen films, making for a nice sorta gimmicky match), but this week was a Frank Henenlotter marathon and, well, there's no matching beers with that (and if there were, I don't think anyone would want to drink such things). So I just snagged this Avery beer with the Latin name, thinking perhaps I might inadvertently summon a demon or something.
Alas, that was not in the cards, but what I got was pretty good nonetheless! Insula Multos Collibus is Latin for "Island of many hills", but if you translate to Dutch, it basically means "Manhattan". It turns out that this is something of an ode to the cocktail. Aged in bourbon barrels with cherries and Avery's house souring cultures, which I guess gets you close enough to a Manhattan without getting too kooky (though wouldn't you use Rye barrels for this? Eh, better not overthink it.) So get your grimoire out and turn to the evocation passages, it's time to summon a cocktail in beer form: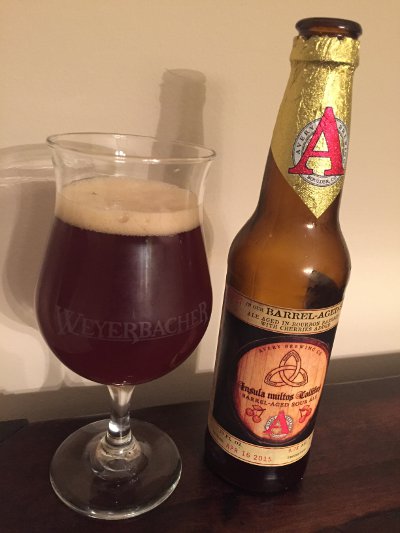 Avery Insula Multos Collibus – Pours a murky amber color with a finger or two of short lived, tan head. Smells of a sorta bourbon cherry pie, rich and sweet, oaky, fruity. I'm no Manhattan expert, but I guess this is close enough while still hewing to (sour) beer. Taste starts off on the sweet side, fruity, boozy, but then it sorta dries out and a bracing fruit sourness kicks in towards the finish. Not as pie-like as the nose would have you believe, but admirable nonetheless. Mouthfeel is well carbonated, rich up front but it dries out by the finish, a little heat from the booze, and a bracing acidity. Overall, this is quite an interesting beer, better than your typical one note American Wild Ale, perhaps a bit too strong, but given the goal to emulate a pretty strong cocktail, we'll let it slide. A-
Beer Nerd Details: 9.7% ABV bottled (12 ounce). Drank out of a tulip glass on 10/2/15. Bottled: APR 16 2015. Production: 1308 Cases. No 27 in Avery's Barrel Aged Series.
This was certainly an interesting one, really quite happy I grabbed a bottle when I could. No more Avery reviews in the pipeline, though I did have a Rumpkin (which clocks in at 18% ABV this year, so lookout!) and might snag a Pump[KY]n if it shows up again… And any of these Barrel-Aged series beers generally interest me, so it probably won't be too long until we see another on here.