Lots of cities can claim greatness as a beer consumption destination, but when you start talking about stuff like breweries per capita, things seem to narrow down pretty quickly. Asheville, North Carolina claims to have the most (21 breweries in the area), but I suspect that Portland (or Bend), Oregon has them beat on other measures. Regardless, many of these breweries are small, brewpubby affairs that really only service the local markets. Seems like a cool place to visit, but I'll have to make due with muled bottles for now.
Wicked Weed is actually one of the newer breweries in Asheville, but they've pretty quickly established a name for themselves thanks to their experiments with funky and barrel aged beers. Their name is a historical reference to a (probably apocryphal) quote attributed to King Henry VIII: "Hops are a wicked and pernicious weed." (Update: As per usual, Martyn has the skinny) My only experience with these guys was an allegedly funky saison that turned out to be crumulent, but a little more bland than one would expect. This particular bottle bills itself as a sour red aleaged with blackberries and dates in red wine barrels for approximately 8-10 months. Promising.
There's great label art of a spelunker confronting a bunch of jellyfish-like creatures and an accompanying narrative, both of which make me want to reference Metroid in some way, but the details are just not aligning well enough to support such nerdery. Of course, it's what's inside the bottle that counts, and I would speculate that Samus would enjoy a bottle of Oblivion (I presume all bounty hunters have decent taste in beer):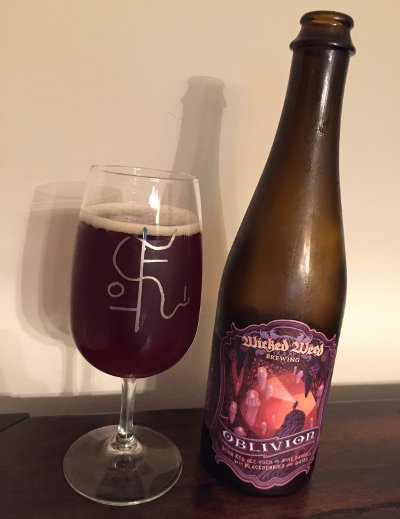 Wicked Weed Oblivion Sour Red – Pours a dark amber brown color with a finger of white head. Smells great, lots of oak and vanilla, berries like cherry and raspberry, and that sour twang. Taste is very nice, lots of tart berry flavors with an oak backbone, moderate acetic sourness emerging throughout the taste through the finish. Mouthfeel is rich and medium bodied, moderate acidity, slight booziness. Overall, solid sour red stuff here! B+
Beer Nerd Details: 8.7% ABV bottled (500 ml). Drank out of a flute glass on 8/22/15. Bottled 4.3.15.
Certainly a big improvement over my first Wicked Weed beer, and I have another sour lined up from them as well. Road trip to Asheville? Not on the immediate horizon, but it seems worth considering…