In keeping with the recent thawing of my relationship to lagers and in particular, pilsners, we've got another offering from Vermont's wonderful Lost Nation brewing. The name Vermont Pilsner initially inspired some speculation on my part as to what would make this worthy of a Vermont appellation. It could just be that Lost Nation is in Vermont, but maybe it means that they'd apply a liberal dose of American hops (the way Switchback did). Well, no, it's just that it's made in Vermont.
They wanted to create a "Franconia-style" Pilsner, which basically means a German take on the style. I'm no expert on Pilsners, but my impression is that the German Pilsner is a somewhat looser style (harder water and any noble hops will do) than the original Czech Pilsner (soft water and almost always Saaz hops). I bought a 4-pack on Operation Cheddar IV, and I think it's a sign that they're all gone, so let's take a closer look: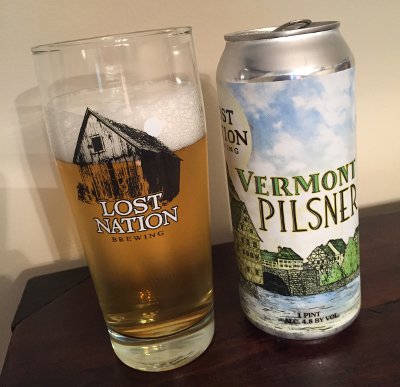 Lost Nation Vermont Pilsner – Pours a clear, pale straw yellow color with a couple fingers of fluffy, bubbly head that sticks around for a while. Smell is earthy, grassy hops, clearly a traditional pils nose, but there might be a hint of something like Cascade peeking in (certainly not dominant, and there's not much citrus, but the more earthy or floral notes could certainly play a role). Taste is very clean, again with the earthy, grassy hops, almost spicy at times, some pleasant bitterness in the finish. Mouthfeel is crisp, light bodied, and refreshing, a lawnmower beer for sure, and quaffable too. Overall, I've never been much of a pils guy, and while this doesn't light my world on fire, I find it refreshing and it does make me want to drink more lagers. B+
Beer Nerd Details: 4.8% ABV canned (16 ounce pounder). Drank out of a willibecher glass on 8/7/15. Canned 06/18/15.
Another winner from Lost Nation, a brewery that's made quite an impression in a rather short period of time (for me, at least). I look forward to returning there during Operation Cheddar V, whenever that may be (and not just for the beer, their food is amazing too).