There's this Portlandia skit where two diners ask pedantic questions about the origins of the chicken they're about to eat. It's a neat skewering of Farm to Table fanatics. Even after presented with an information sheet on the exact chicken they'll be consuming (his name was "Colin"!), they feel the need to further investigate, making their way to the actual farm itself, interviewing the workers, and so on. This is obviously a ludicrous exaggeration, which is the point, but sometimes it's nice to see where your food comes from. Take this beer, part of Almanac's Farm to Barrel series (naturally), a sour beer fermented with their house yeast, then aged in old wine barrels atop uber-fresh local fruit. But where does this fruit come from? In this case, we've got strawberries grown at Dirty Girl Farms in California's Santa Cruz Mountains. Some of you might be thinking how nice it would be to meet the eponymous girls in question, and you people are probably pretty dirty in yourselves. Get your minds out of the gutter, is what I'm saying. Let's get our mind off this lurid subject with some beer: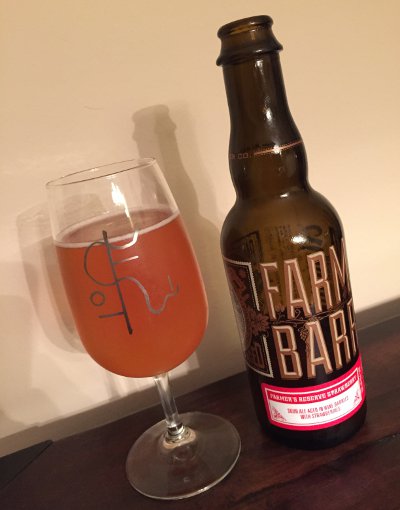 Almanac Farmer's Reserve Strawberry – Pours a slightly hazy golden orange color with a finger off white head (it's not even pink, who are they fooling?) Smells strongly of tart fruit, strawberries, kiwi, and the like, with some oak and vanilla kicking in for fun. Taste starts sweet, quickly moving into sour fruits leavened by some oak before sharply ramping up the sourness in the finish. Mouthfeel is crisp and light bodied, quite acidic but still pleasant enough. Overall, yes, it's another Farmer's Reserve winner from Almanac, moar sour than usual, but that seems to be the way of the strawberry. Who am I to question that? A-
Beer Nerd Details: 7% ABV bottled (375 ml). Drank out of a flute glass on 7/17/15. Batch 10:1 031215 FRSTRAW.
Always on the lookout for more Almanac, they've never really let me down and have pretty steadily gotten better as time goes on. I'm sure we'll be seeing more of their offerings sooner rather than later…