One of the unexpected treasures secured during Operation Cheddar III was a trio of Jack's Abby beers I never thought I'd see just sitting on a shelf. We're fans of Jack's Abby here at Kaedrin, if only because they force us to reconsider our prejudice against lagers (something I've been working on of late). Oh yeah, and their beer is actually quite good, and often not just in a It's good… for a lager way. They actually just started sending some beer down Philly way, gauging interest for a full blown distribution push once additional capacity comes on line at their brewery (fingers crossed that we met whatever swanky criteria they were expecting), but this line of Baltic Porters were scarce (if they shewed up here at all, I don't really remember) and I never got a taste.
So imagine my surprise when I saw the base beer and several barrel aged variants sitting on a shelf in VT. What makes these suckers special? Well, Baltic Porters are an interesting style, something of a hybrid between a Russian Imperial Stout and Porter, these were quite popular along the ports of the Baltic Sea. According to Jack's Abby, while the original British brews were ales, the Baltic breweries tended to make lagers. Yeast wasn't particularly well understood at the time, so they just used their familiar lager yeast to make a big, bold porter, and that's what Jack's Abby (primarily lager brewers) is doing here. Come to think of it, I don't know of any other commercial brewery doing such sorcery, so good on them. I've had a few Baltic Porters in my day, but they always seem to suffer in comparison to RIS in my mind.
That being said, my interest was piqued when I spied the barrel aged versions, one straight up, and the other including an addition of vanilla. There was also a coffee BA version, but I left that for those enterprising VT beer nerds with more of a taste for coffee than I. Rumor has it that the original batch of these suckers were aged in Weller Antique barrels (a fine bourbon on the endangered species list because everyone calls them Pappy substitutes – stop doing that guys!), though who knows if this most recent batch carries the same provenance? I decided to make a night of it and drink all three back to back, perhaps not my wisest decision ever, but given that I've practically been drowning in IPAs and saisons of late, I thought this would be a welcome respite from hops and farmhouse funk (Not that I don't appreciate those amazing beers, just that it's good to change things up from time to time). So how good are Baltic Porters brewed with lager yeast? Pretty damn good, if you ask me: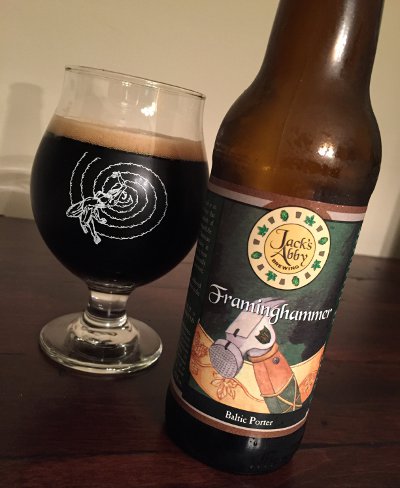 Jack's Abby Framinghammer – Pours a very deep, dark brown, almost black color with a finger of light brown head that sticks around a while. Smells of roasted malts, cocoa, molasses, vanilla, and a bit of caramel. Taste starts off very sweet, bits of caramel and vanilla up front, molasses and lots of cocoa in the middle, and hints of hoppy, bitter roast towards the finish. Mouthfeel is very well carbonated, but smooth and a little rich, a full bodied sipper, to be sure, but well attenuated, even if it remains heavy (as it should be). Overall, my kind of Baltic porter, sweet with hints of roast, complex but approachable, very well done. B+
Beer Nerd Details: 10% ABV bottled (12 ounce). Drank out of a tulip glass on 6/20/15. Bottled: 2.3.15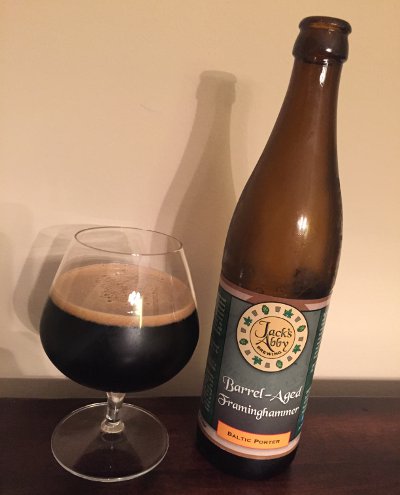 Jack's Abby Barrel Aged Framinghammer – Looks pretty much the same as the others, very dark brown, almost black, much less head and retention. Smell is more focused on carmamel and boozy bourbon, some of the cocoa and roast in the background. Taste is all rich caramel and bourbon, with some cocoa and roast for good measure. Mouthfeel is well carbonated, less than the base but more than the vanilla. Full bodied sipper, slightly boozy. Overall, a rock solid barrel aged beer, nice improvement over the base, complex and delicious. A-
Beer Nerd Details: 10% ABV bottled (500 ml). Drank out of a snifter on 6/20/15. Bottled: 3.23.15 (I think, it got a wee bit smudged)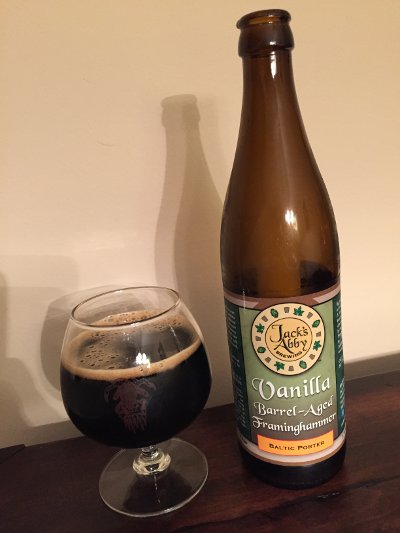 Jack's Abby Vanilla Barrel Aged Framinghammer – Looks just about the same as the base, very dark brown, almost black, slightly less head and less retention too. Smell is more focused on the caramel and vanilla than the regular or BA, and some bourbon makes an appearance as well, with the underlying cocoa and roast taking a back seat. The taste hits that rich caramel pretty hard and there's an explosion of vanilla soon after the start, very sweet, hints of roast and cocoa, but they're definitely overwhelmed by bourbon, oak, and heaping helpings of vanilla in the finish. Mouthfeel is rich and full bodied, still silky smooth, less carbonated (but still appropriate) and a little sticky, boozy feel as well. Overall, a nice improvement over the base, and my kinda BA porter. I'm actually finding it difficult to gauge this against the regular BA version though A-
Beer Nerd Details: 10% ABV bottled (500 ml). Drank out of a snifter glass on 6/20/15. Bottled: 3.26.15 (I think, it got a wee bit smudged)
Also worth noting that I did get a chance to try both the Cocoa-Nut Barrel Aged Framinghammer and Peanut Butter & Jelly Barrel Aged Framinghammer at ACBF during Operation Chowder. Tiny little samples, for sure, so it's hard to compare, but they were also excellent (and one of the highlights of the fest for me). I also snagged a bottle of Saxonator, their dopplebock and another style I'm not terribly up to speed on, so we'll probably get to that at some point this summer as well.