One of the simultaneous strengths and weaknesses of American craft beer is its relationship to traditional style, or lack thereof. On the one hand, if it can be brewed, it's probably being brewed in America somewhere. Want a braggot? Sahti? Grätzer? Someone in America is keeping these obscure styles alive. Want a beer brewed with goat brains? We got you covered. On the other hand, who are we kidding? IPAs and Stouts are mainstays and they're where the buzz is at (I suppose sours can be included in that these days). And to be honest, it can get a bit tiresome to wade through all of the "off centerd", "genre-tilting", "innovative" beers that are continually being thrust our way. That goat brain beer? I think it's both awesome and a little gross that it exists.
The Bruery is one of those breweries that straddles the line. They do some (more or less) traditional stuff, but then, they also like to put big twists on traditional styles. Their 12 Days of Christmas series, in which they release a new beer every year that is meant to last until the release of 12 Drummers Drumming (making for one heck of a vertical), started off with some traditional stuff. Partridge In A Pear Tree was basically a Belgian Strong Dark, 2 Turtle Doves was a little more adventurous, a sorta Belgian Porter made with cocoa nibs, toasted pecans, and caramelized sugar, and aged in bourbon barrels (seems to be the best received entry), 3 French Hens was another straightforward Belgian Strong Dark, but it was partially aged in French Oak, 4 Calling Birds was a sorta Belgian Winter Warmer (almost a stout, if I remember correctly), 5 Golden Rings went way off the reservation, being a Belgian Strong Pale Ale made with Pineapple juice (and, quite frankly, the worst in the series so far), 6 Geese A Laying returned to the Belgian Strong Dark formula, but incorporated Gooseberries. For the most part, this has been a series of diminishing returns and escalating weirdness (or "off centeredness" or "innovative" or whatever you want to call it). I've not had the first two entries, but they have decent reputations. The 3rd and 4th entries were quite nice. All the ones up to that point were pretty straightforward. The 5th was… not bad, per say, but not particularly good either, and that pineapple juice made it a little too weird. The 6th was better, but not quite up to par with the rest of The Bruery's output, and the gooseberries made it a little weird.
And now we come to 7 Swans A Swimming, which returns to traditional brewing tactics land. It's basically a straight up Quadrupel, period. No weird adjucts or additions, just traditional Belgian Strong Dark beer. Not having had Partridge in a Pear tree, they seem similar, but I can't say for sure. So how does this fare?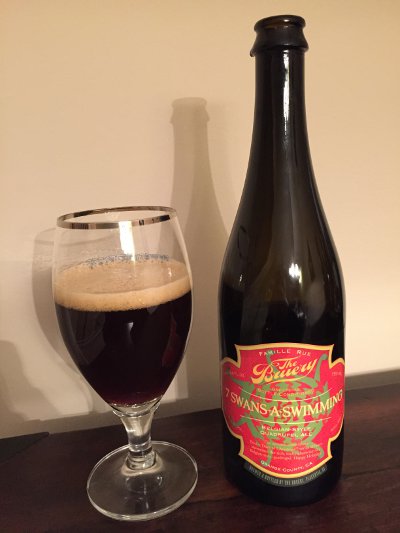 The Bruery 7 Swans-A-Swimming – Pours a dark brown color with hints of amber when held up to light and a nice finger or two of head. Smells nice, bready belgian yeast, spice, dark fruits, plums, and the like. Taste is also nice, lots of dark fruits, plums, a little raisin, plenty of yeast spice to cut through it. Mouthfeel is medium bodied, well carbonated (but not quite as perfect as top tier quads), and a little sticky in the finish. Overall, its a very nice, on-style take on the quadrupel. Drinking a whole 750 makes it feel a bit one note, and I feel like the complexity sorta fades as it goes, but it works nonetheless. I'll still give it a B, but it's a high B and I like it better than the last couple entries in the series (ratings inflation continues unabated).
Beer nerd Details: 11% ABV bottled (750 ml). Drank out of a goblet on 12/13/14. Bottled 11/10/14.
At some point, I thought it would be cool to save up all the 12 days of christmas beers for a big vertical (which is coming up fast), but I basically only have 4 Calling Birds in my cellar. This is the first time since then that I'm seriously considering grabbing another bottle for the cellar, even if it wasn't particularly spectacular (it seems like it could age well). I guess we'll see.