I've been hitting the local brews pretty hard this past week or so, and I don't see any reason to stop now. Here we have another two year old local brewpub specializing in English and Belgian styles, with a particular focus on saisons. As I've mentioned before, they share a fair amount of DNA with what makes Tired Hands a Kaedrin favorite, so you know I'm interested when they do a bottle release. They're a bit further away from me, so I don't always get up there for bottle releases, but on the other hand, they tend to be low stress affairs, much like the laid back atmosphere they cultivate.
Here we have the second release of Lunaire, a saison aged in Chardonnay barrels for about six months. So strap in, it's time we take Le Lunaire Voyage*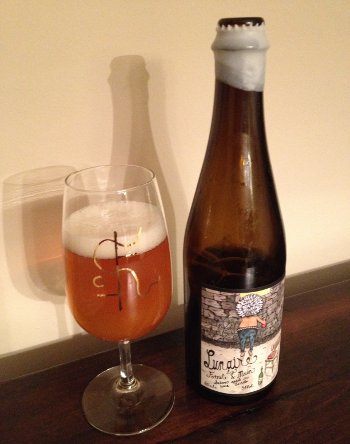 Forest & Main Lunaire – Pours a cloudy golden orange color with a finger of tight white head that sticks around for a while as I drink. Beautiful nose, musty funk, bright citrus, wine, and lots of oak. The taste amps up that funk a bit, lots of earthiness, a little citrus tartness, vinous fruit, and tons of oak. I suspect there are some who'd say this is over oaked, but I'm not complaining at all. That being said, I'd be really curious to see what this does over time, perhaps that oak will mellow out some (fortunately, I have a few extra bottles to lay down). Mouthfeel is well carbonated, crisp, and effervescent, light bodied, tannic, with just a bit of acidity. Overall, this may be my favorite Forest & Main beer yet. A-
Beer Nerd Details: 6% ABV bottled (500 ml waxed cap). Drank out of a flute glass on 8/2/14. Batch 2 (I think… definitely the second bottling), bottled May 21, 2014.
I seem to be drowning in excellent, funky, local saisons aged in wine barrels of late. I'm not really complaining about that, I love me some farmhouse and I've been trying to live off my cellar for the past few months instead of continually buying more than I could even drink, but I also try to write about more diverse stuff. I'll have to see what I can do in the near future about that. Incidentally, I've got a line on some midwest Gold, and even a potential trip to Vermont next week, so I'll most likely be stocking up again in the near future. Stay tuned!
* For the non film nerds amongst you, I was trying to evoke the early cinematic classic Le Voyage dans la Lune (aka A Trip to the Moon)with that quip, but the fact that I'm even writing this footnote is probably a bad sign, no? I'll just stop then.