It used to be that you'd see the occasional Bourbon barrel aged beer. Everyone would lose their minds, and they'd fly off shelves, and it was all well and good. I, for one, welcomed our bourbon barrel overlords, but the past few years have seen brewers diversifying their barrel aged offerings. You've got rum barrels, apple brandy barrels, and wine barrels galore.
Enter the dreaded tequila barrel. Lost Abbey brewer Tomme Arthur even decided to double down on this offering, brewing the base beer with Agave syrup. The fine folks over at Lost Abbey run a pretty tight Keebler tree, so despite some rightfully dubious responses, I figured I'd drop some coin on a bottle of this stuff and see what the deal is. In short, while not "worse than undrinkable", that's also setting the bar too low. I'd rather drink this than most macro slop, and it is a unique, interesting beer, but it's not something I'd go out of my way for again.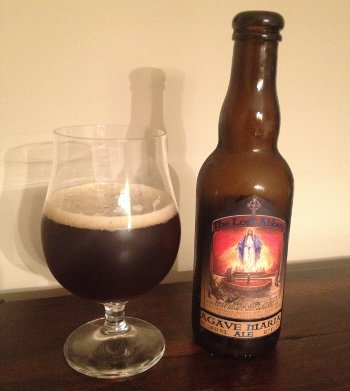 Lost Abbey Agave Maria – Pours a murky dark brown color with a finger of khaki head. Smells very sweet, with an almost honey-like note, something kinda like char, and plenty of barrel character. The taste explodes with sweetness up front, very sugary sweet, something like honey (presumably that agave doing its thing), and less of that barrel character than I'd like. I suspect that a 750 of this would get cloying, but the 375 format just barely clears the bar. But then, I'm an odd duck, so your mileage may vary. The mouthfeel is full bodied and rich (so that part of the barrel treatment works), sugary, highly carbonated (way to go Lost Abbey!), with a bit of saccharine stickiness in the finish. Overall, this is an interesting, unique little beer. Not something that makes me want to try a lot of other tequila aged beers, but I'm glad I tried one. B
Beer Nerd Details: 13.5% ABV bottled (375 ml caged and corked). Drank out of a tulip glass on 7/19/14. Vintage 2014A.
I'm all for barrel diversification, but you know what, you should probably also just throw some Serpent's Stout in Bourbon Barrels, because that would be killer. Yeah, Deliverance has BBA Serpent's Stout in the blend, but I'm sure the straight up juice would be even better. Ah well, I'll just stop pretending like I actually know better than people who do this for a living now. I'm a moron.