I've noted before that I'm not particularly good at coming up with names for beers. Thanks to Tired Hands' freewheeling attitude towards naming beers, I'm getting better at it and have a few names saved up for upcoming homebrews, but I only need to spy a name like Round Guys' Fear of a Brett Planet to feel woefully inadequate in this department. I don't know how much to read into that name (are the Round Guys saying that Brettanomyces is a minority and that brewers are afraid of organization and empowerment in the yeast community? I don't think I really want to go there (but you just did – ed.)), but it is a spectacularly awesome name for a beer.
So this is a local can of 100% Brett fermented pale ale. Kinda, sorta like what Stillwater originally wanted to do with Premium/Classique, except the base recipe is more like an APA, what with the hops and all that. So let's fight the power and see how this turned out: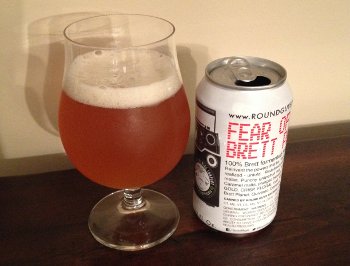 Round Guys Fear Of A Brett Planet – Pours a golden yellow color with a couple fingers of fluffy, eggshell white head that sticks around a while. Smells beautiful, Belgian yeast spiciness, clove and the like, a little fruity funk with a hint of earthiness, and maybe some American C hop goodness (but it's not super powerful). The taste has a nice bready base to it, with the yeast not quite as prominent as the nose would have you believe, but it's there with its spicy notes. Some hoppy citrus and pine come to the party, but they're not throwing their weight around much, just adding to the complexity. More earthiness and plenty of hop bitterness appears towards the finish and lingering into the aftertaste. The funky Brett notes are there, but they're a light touch. Mouthfeel is light, crisp, and dry, well carbonated, quaffable stuff. Overall, this is a very nice, well executed, easy drinking pale ale with well incorporated Brett. B+
Beer Nerd Details: 5.1% ABV canned (12 oz). Drank out of a tulip glass on 6/6/14.
I'm pretty sure I've had Round Guys' Berliner once, but I've otherwise been neglectful of this local(ish) brewery. I should really check out more of their stuff.