There's an old saying in the wine world: "There are no great wines, only great bottles of wine." Once a wine is put into a bottle, there are any number of things that could influence the taste when the bottle is opened. How old is the bottle? Where was it stored? What was the temperature? Did you have it shipped during the summer? What kind of light exposure is there? Even if you assume all that was fine, there are also cases of cork taint and other such unlikely occurrences. There's natural variation in bottles, and no one even pretends that different vintages are supposed to produce the same result. There's a million things that could lead to a bottle being great or a total bust, and that's before you start talking about subjective matters of taste and context.
If this sounds a little naive, that's because I don't know that much about wine. But I do know beer, and I know that the same thing applies here (as well as with other tipples, like whiskey). Many of the same caveats apply, some even moreso than in wine (for instance, because of compounds in hops, beer tends to be more susceptible to light than wine). Bottle conditioned beers can change significantly over time. Funky beers with Brettanomyces and other critters are wildly unpredictable (we could get into the whole consistency debate, but I'll have to save that for my next Fantôme review…) Highly hopped beers can taste differently from week to week, even if they're stored properly. Read about hops, and you can see that crops change significantly from year to year (and I'm not just talking about yield here, things like Alpha Acids and oils that drive aroma can vary from year to year).
This sort of pedantry can manifest in annoying, stupid ways, such as the continual insistence that this year's batch of Pliny the Younger/Hopslam/Black Tuesday/whatever is not as good as last year. They often aren't identical, to be sure, but such utterances seem driven more by hype or rarity or ego than anything more reliable. Likewise, I often see some folks who finally land that white whale beer, only to find that they don't care that much for it and wonder Did I get a bad bottle? Because surely a bunch of strangers on the internet couldn't be wrong, right?
But every once in a while, you will run across a genuine bad bottle. A "sick" bottle of Fantôme, an old IPA that was sitting in sunlight, or maybe a beer that has some off flavors (metallic or tinny beer, soy sauce stouts, overwhelming diacetyl, etc…) Some of this may be poor QA on the brewery's part, others might be a problem with shipping or storage. It's tempting to hold a grudge against a brewery or a particular beer if you've had one bad experience with them, and it doesn't help that we are so awash in great beer from all over right now because why try a beer you didn't like before again when you can just grab something new?
All of which is to say that I had an issue with this Hair of the Dog beer. I was wary from the moment I opened the beer to a practically nonexistent puff of carbon dioxide. When the pour produced absolutely no head whatsoever, I knew I was going to have a problem. I'm perhaps more sensitive to carbonation issues than most folks, and to be honest, I've been wrong about low carb levels before. However, in looking at other reviews of this, it seems that most reviews mention "ample" or "above average" carbonation levels. I got what I felt was a flat beer. So… bad bottle?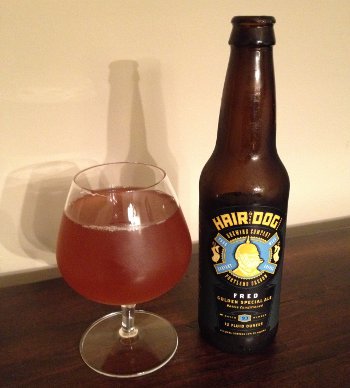 Hair of the Dog Fred – Pours a pale orange, light brown color with no head whatsoever. Almost no pop when I opened it either, which does not strike me as a good sign. Smells very interesting though, sweet, boozy, biscuity malt, maybe rye, some fruity hops, almost like a pastry with booze. Taste has a sticky sweetness to it, lots of hop character built on top of a biscuity, bready malt and well integrated. Alas, the Achilles heel is the carbonation, which is practically nonexistent… It feels medium to full bodied, a little syrupy and sticky, definitely boozy but not overwhelmingly so. If it were even a little carbonated, this would be a much better beer. Oddly, from looking around, it seems that this does normally have a medium to high carbonation factor, so I don't know what's up with this bottle! Aside from the carbonation, it's obviously a well crafted, interesting beer, and I can drink it, but this is ultimately disappointing. B-
Beer Nerd Details: 10% ABV bottled (12 oz). Drank out of a snifter on 6/13/14. Batch 93.
Looking at the reviews a little more carefully, it seems like there is some variation between the batches. A couple of other people have gotten practically "still" bottles like mine, but most seem to indicate a higher degree of carbonation. So not a great first impression, but I'll have to give Hair of the Dog another chance someday…