Bon-Chien is French for "Good Dog". Naturally, it refers to… a cat? It turns out that Bon-Chien was Brasserie des Franches-Montagnes (BFM) first cat, and to honor its passing, they attributed three miracles to her, conferred saintly status, and brewed this beer. Rather oddly, they claim primary fermentation is achieved via wine yeast. Then they aged it in a variety of barrels, where the juice picks up the various souring bugs and funky yeasts. Over the years, these barrels have ranged from Grappa, Pinot Noir, Merlot, Bourbon, and Scotch, to Champagne or obscure barrels previously used for stuff that even the internets don't seem to know about (anyone know what Kumasamasansa is?) The standard Abbaye De Saint Bon-Chien is a blend of all the barrels used in a given year (usually only a few different types), but the individual barrel beers are also released with the Grand Cru designation (remember: Grand Cru means almost nothing in the world of beer).
The 2012 vintage, which is what I had, seems to be comprised of beer aged in Champagne, Merlot, Cabernet Sauvignon, and the mysterious Kumasamasansa barrels. I feel like these beers have become more widely distributed in the US over the past few years, and what's more, you can often buy older vintages (if you're willing to pay, and these suckers aren't cheap, though apparently this ages very well). As monster 11% ABV sours go, this is actually a pretty approachable beer, effortlessly complex, rich, and only moderately sour. Let's take a closer look: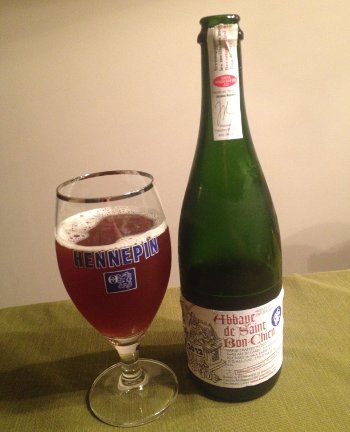 BFM Abbaye De Saint Bon-Chien 2012 – Pours a dark amber brown color with a finger of off white head that fades but leaves a bit of lacing too. Smells very nice, with tart, vinous fruit, cherries, tannins, oak, vanilla, and vinegar. Taste is very sweet, maybe even sugary. Fruity, berries, sour cherries and the like, some oak and vanilla, with a well matched, almost mellow sourness (two words that don't normally go together). Mouthfeel is smooth and velvety, not nearly as much carbonation as expected, but still enough. Medium to full bodied, which is rare for a sour. I get the impression that the attenuation is low here, which perhaps offsets the sourness a bit, and it coats your mouth considerably, leaving a long finish. It's a little boozy, but not at all unapproachable and it handles the ABV much better than a lot of other high octane sours. Overall, this is a really nice, heavy duty sour beer. B+
Beer Nerd Details: 11% ABV bottled (750 ml) Drank out of a goblet on 6/13/14. Vintage 2012. Blend 5.
The label sez "Recommended with fine food!" so I paired this with a pepperoni pocket pie. Not my brightest move, but hey, it actually kinda worked. Though I will say that, like a lot of darker sours like this, it actually matches very well with good dark chocolate. Also, if I can afford another bottle of this, I may actually try it with their recommended pairing of pan seared duck breast deglazed with Modena balsamic vinegar. But then, that sounds like a lot of work (for both me and my wallet).