Cascade Brewing out of Oregon has quite the reputation, and we were able to confirm that a couple times last year, to the point where I now blind buy any new bottle I see. I love the idea of a brewery that got its start specializing in sour beers (rather than the tired old pale ale, amber, and porter lineup that a lot of new breweries roll out). Apparently the folks who started the brewery were sick of the whole "hops arms race" and didn't want to chase the same dragon as pretty much every other brewer out there. So they looked for something that would provide a similar intensity (but without the hops), and thus settled on sour beers. Despite being a rather tiny brewer, they are probably one of the most consistent and largest sour brewers out there, which is saying something.
I recently managed to get my greedy paws on a few new bottles (and some old favorites) of Cascade beers, including this one, a blend of strong blond ales aged in barrels with fresh pressed grapes. I could be wrong, but I get the impression that most fruited sours use macerated fruit, not "pressed". I call this out because when I was drinking this, I got a very distinct "grape juice" vibe out of it that seemed uncommon in grape based sours.
If I were a better person, I would have made a Vine of me pouring this stuff in a glass or something more creative, but that would have been, like, 6 seconds of extra work, and who has time for that kinda hassle. I got beer to drink here: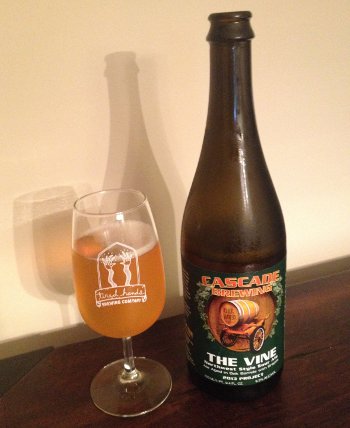 Cascade The Vine – Pours a hazy yellow color with a couple fingers of bubbly, fizzy head that quickly resolves to a cap that remains for a bit. The smell is full of funk and grape juice, with some more typical tripel type aromas lurking in the background. The taste follows the nose, lots of funk, a very light lactic character, not even really sour (maybe very light up front, but it fades quickly), a hint of oak (but not much at all), heaping helpings of grape juice, and something earthy and musty in the finish. Honestly, it drinks more like a grape flavored tripel than an oak aged sour, though it does work well enough for what it is. Mouthfeel is highly carbonated and effervescent, medium bodied, a little bit of booziness. Overall, it's really good, but I was hoping for a little more sourness and oak. B+
Beer Nerd Details: 9.3% ABV bottled (750 ml caged and corked). Drank out of a flute on 5/16/14. 2013 vintage.
Reading other reviews seems to indicate that others got more sourness out of this than I did, making me wonder if I just got an odd bottle. I love me some Cascade, but one thing I do not love is the price tag, and I can't say as though I'm rushing out to grab another of these (the Kriek or Apricot beers are another story). I also got my hands on the Blueberry beer, which I've got high hopes for (look for that in the next few weeks)…