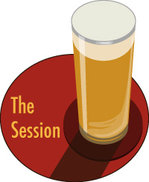 On the first Friday of every month, there's a beer blog roundup called The Session. Someone picks a topic, and everyone blogs about it. This time around, Heather Vandenengel wants to talk Beer Journalism:
What role do beer writers play in the culture and growth of craft beer? Are we advocates, critics, or storytellers? What stories are not getting told and what ones would you like to never hear about again? What's your beer media diet? i.e. what publications/blogs/sites do you read to learn about industry? Are all beer journalists subhumans? Is beer journalism a tepid affair and/or a moribund endeavor? And if so, what can be done about it?
A few things occur to me. One is that I rarely seem to read stuff that would formally be called "Beer Journalism". Sure, this is the internet, and so I've serendipitously stumbled upon many a beer article, I suppose, but I've never subscribed to a dead tree publication like BeerAdvocate (and for various reasons, I don't have any plans to reverse that). The grand majority of my beer reading tends to be blogs, and they can be a varied bunch. Common themes seem to be irreverent humor, homebrewing, reviews, even more irreverent humor, and then there's whatever the hell Subby Doo is doing at DDB.
The other thing that occurs to me is that it seems kinda foolish to put writing into a box. Perhaps there are too many "advocates" and cheerleaders in beer writing these days, but if Thomas Pynchon started up a beer advocacy blog, I'd bet all of us would be reading the hell out of that thing. Still, I do think there's a point here. Beer boosterism is fine, but it also leads to certain issues. Like, for instance, the constant hand wringing about the best beers in the world. It can be frustrating to newbs and hype causes some rather obnoxious behavior amongst some folks (this is a general topic that deserves a post of its own). It wouldn't be so bad if everyone didn't choose the same few beers, but if you really love beer, you should seek out the bad with the good. While I've had my share of infamously bad beers, I could probably do better on this front myself.
One of the other things Heather asked us to share in this Session is "a piece of beer writing or media you love". There are many options (and all the folks I linked above are indeed loved), but I'm going to go with the most obscure thing I can think of, which is this classic review of the legendarily bad Samuel Adams Triple Bock, buried in the depths of Beer Advocate (and somehow not deleted by the overzealous mods over there). Who says tasting notes are boring?
True story: While outside, my brother and I poured a little bit of Triple Bock into the bowls of the three dogs who live at my uncle's house. All three dogs, very hungry due to not having eaten since breakfast, ran toward the bowls, then simultaneously retreated by slowly walking backward. They appeared to be concerned that whatever was in there might reward sudden movement by attacking them. Such concerns were probably well-founded.

Truth be told, I strongly recommend Triple Bock to everyone who calls himself a beer connoisseur, just as I recommend "Troll 2" to strangers I pass on the street. There truly is nothing else like it in this world. It deserves every bit of its insidious reputation, and it will take years off your life.

Highly recommended.
I don't really know where to go after that, so I'm going to answer Heather's original questions with some questions of my own, which will hopefully help illuminate something I'd like to see from more beer writing. In this task, I will be drawing upon a raging debate in the world of music and film writing. The whole snafu was set off by this CriticWire Survey that posed a question:
Q: Jazz critic Ted Gioia recently lodged a complaint that "music criticism has degenerated into lifestyle reporting" because most most critics lack a musical background and theoretical tools. Do movie critics need filmmaking experience or an understanding of film theory to do their jobs?
Gioia's original post makes some pretty strong points:
Imagine, for a moment, football commentators who refuse to explain formations and plays. Or a TV cooking show that never mentions the ingredients. Or an expert on cars who refuses to look under the hood of an automobile.

These examples may sound implausible, perhaps ridiculous. But something comparable is happening in the field of music journalism. One can read through a stack of music magazines and never find any in-depth discussion of music. Technical knowledge of the art form has disappeared from its discourse. In short, music criticism has turned into lifestyle reporting.
There might be some hyperbole involved there, but I think you can see where I'm going with this, and the parallels to beer writing are obvious. Do beer writers need brewing experience or an understanding of brewing theory to do their jobs? I'm willing to bet that a lot of respondents to this Session will be talking a lot about how "beer is people" and other such platitudes, and there is certainly a lot of gold to be mined in that realm, but what of the technical aspects of brewing?
I actually think a lot of beer writers have at least tried their hand at brewing. Heck, I'm just some random blogger with a tiny stream of traffic, and even I homebrew and try to tackle some esoteric technical details of the brews I'm brewing and drinking. But I feel like, all too often, we beer bloggers just regurgitate the marketing blurb on the back of the bottle or in the press releases. I'm as guilty as anyone when it comes to stuff like this, even if I do try to do some deeper diving on various subjects from time to time, information is limited. Beer Journalists probably have more access, but do they really get into the nitty gritty details of brewing during, say, an interview? Of course, it's going to be very difficult to make some technical details interesting to a general audience, but it's certainly possible.
Film critic Matt Zoller Seitz was one of the initial respondents to the CriticWire survey, but he later expanded upon his answer:
Movies and television are visual art forms, and aural art forms. They are not just about plot, characterization and theme. Analytical writing about movies and TV should incorporate some discussion of the means by which the plot is advanced, the characters developed, the themes explored. It should devote some space, some small bit of the word count, to the compositions, the cutting, the music, the decor, the lighting, the overall rhythm and mood of the piece.

Otherwise it's all just book reports or political op-eds that happen to be about film and TV. It's literary criticism about visual media. It's only achieving half of its potential, if that. And it's doing nothing to help a viewer understand how a work evokes particular feelings in them as they watch it.

Form is not just an academic side dish to the main course of content. We critics of film and TV have a duty to help viewers understand how form and and content interact, and how content is expressed through form. The film or TV critic who refuses to write about form in any serious way abdicates that duty, and abets visual illiteracy.

It is not necessary for a critic of film or television to have created a work of film or television. But it's never a bad idea to know a little bitty eensy teensy bit about how film and television are made.
Much of this seems pretty obvious to me, but it caused quite a stir amongst the film nerd community. It turns out that if you tell a writer how they should write, they get a little uppity. And that's probably as it should be. Again, it's kinda foolish to put writing into a box.
But I think the general point of this whole debate is worth taking to heart. Beer isn't just about people, it's also about, well, the beer. It helps to know about ingredients and process, and Beer Writers should be internalizing this info and passing it on in easily digestible chunks to the unsuspecting masses. That doesn't mean you shouldn't write about people, but perhaps the balanced approach is best. To all things in moderation, and other cliches. This isn't easy, but that's why you're a beer journalist, right? You don't have to be negative or critical (though there's nothing wrong with that), and you can still be an advocate by stressing the technical. Think about what Neil deGrasse Tyson is attempting with his reboot of Cosmos (or what Carl Sagan already accomplished). I think beer needs people like that. People who understand things and aren't afraid to explain them in laymans terms. And I'm not entirely sure that shows like Brew Masters or BrewDogs really fit that bill (though the latter certainly does better than the former, even if they're still obsessed with gimmickry in the brewing of their beer). You could argue that we've already had our Sagan – Michael Jackson is indeed a giant – but he's sadly no longer with us, and so there's a gaping hold in beer writing. Are you going to fill it?