The number of whisk(e)y reviews in the past few weeks may have given you the wrong idea about how much spirits I really drink. In reality, it takes me forever to get through a bottle, even one I really like. As such, it took me a while to realize that I'm something of a peat freak. I get the impression that people who recommend stuff for newbs don't really go overboard with peat, which is probably advisable, but after a slow ramping up, I realized that I really enjoy me some peat and smoke in my scotch. It started with the faint hints in Highland Park 12, caught a bit more peat smoke with Talisker 10, and culminated in Ardbeg 10, at which point I realized that I should just stop worrying and embrace the peat. This past weekend, I cracked two peaty Scotches and compared notes. There's a lot to go over for these two, but stick with me, it'll be fun:
Compass Box The Peat Monster – The Scotch nerd community seems to be mostly about Single Malt Scotches, yet they represent some stupid-low segment of the market (something like 5%, kinda like craft beer). The grand majority of Scotch that is sold in the world are called "Blended Malts", and they don't have the greatest reputation. Johnny Walker certainly makes some well respected, older-aged bottles, though even they get poo-pooed. The likes of J&B and Cutty Sark don't do blends any favors though, and taste a little like gasoline. Here at Kaedrin, we're big tent kinda people, so I thought it might be nice to go after a "good" blend, and in today's market, that seems to be Compass Box. I was in the market for a new peaty bottle, and this sucker has a great reputation. The guy behind Compass Box, John Glaser, is a longtime member of the industry and got his start by blending bottles from his bar to see what kinda weird stuff he could create (this great interview gives more background on this, amongst other topics). He's gotten into some trouble by adding adjuncts to some of his more adventurous blends (coming from the rough and tumble craft beer world, where a recent local brewery just released a beer made with goat brains, the prospect of having some orange or spice added to my whisky doesn't really frighten me – not that Peat Monster has any adjuncts). The blended components seem to be something of a secret, though they do appear to be Islay malts (see below for a little more on Islay). As an added bonus, check out that label. Perhaps not as "classy" as most Scotch labels, but it's really well designed nonetheless:
I'm always surprised by how light these smokey, peaty monsters can be – this is a clear, very light yellow color. The nose is very nice, with the obvious smokey peat aroma being the most prominent, but also an underlying sweetness that indicates balance. The taste bears that out, with a big malt presence up front, maybe some oak and vanilla, and that intense peaty smoke coming through strong towards the finish. Mouthfeel is medium bodied, a nice oiliness to it that helps coat the mouth, and plenty of booze. Overall, this is a very nice, very balanced peat smoked whisky. Despite the name, this is an approachable dram of peat smoked whisky, and pretty easy drinking too… I'd say more intense than Talisker, but not quite at the Ardbeg levels…
Whisky Nerd Details: 46% ABV bottle (750 ml, just opened recently). Drank out of a Glencairn glass on 4/12/14.
Ardbeg Uigeadail – I've already mentioned Ardbeg 10, which is my favorite Islay whisky (which isn't to say that I've had a ton of them, but still). To a newbie the whole Scotch region game can be tough to figure out, but Islay is the easy one – they tend to be intensely smoky and peaty, moreso than any other region. Why is that? As per usual, the historical origin is a tale of necessity, rather than a specific desire for peat smoke. Islay is an island with no trees, so they had no wood to fire their kilns and malt their barley. Thus they relied on what they had: peat. This imbued the malt with a distinctive smokey flavor, which many have grown to love. A tradition born of necessity. This bottle adds to the normal Ardbeg style another component, one not typical in peated Scotches (see Jacob's Venn diagram for an illustration) – it is also partially finished in Sherry casks. It's also a higher-proof offering than the standard Ardbeg 10, and while it has no age statement, I can't imagine this being too young…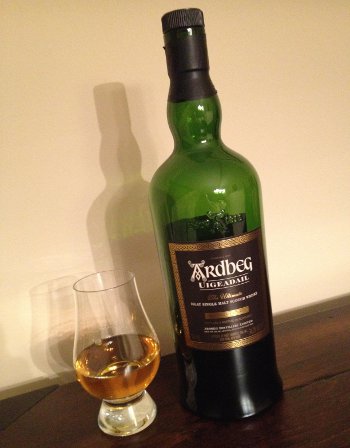 Definitely a darker pour here (than Peat Monster, but also of Ardbeg 10), more on the golden orange side of things. Nose is definitely more complex, hitting with that classic Ardbeg peat smoke, but also something else, presumably that sherry influence. People often talk about smoked malt as having meaty characteristics, which in my experience is actually rare, but this Uigeadail definitely has something like that going on in the nose. The taste hits on that peat smoke and tar, but future sips yield some oak and vanilla, and sometimes an almost fruity malt note (or maybe that sherry again). Mouthfeel is full bodied, rich, and oily. Definitely a hotter alcohol component here, but still approachable. Overall, this is really spectacular and complex. On the other hand, I think I might prefer straight up Ardbeg 10, though this is a really nice riff on the same style.
Whisky Nerd Details: 54.2% ABV bottle (750 ml, nearing the bottom). Drank out of a Glencairn glass on 4/12/14. Bottle Code: L11 284 14:57 6ML (basically, it's a late 2011 bottle – see full breakdown of bottle codes here)
Beer Nerd Musings: One of the most surprising beers I've ever had was Yeastie Boys' Rex Attitude, a mostly unassuming recipe… except that it's made with 100% peated malt. This sounds like a ludicrous idea, but it works way more than you might think. If you're a peat freak and you have the opportunity to try this beer, give it a shot, I bet you'd enjoy it (alas, Yeastie Boys is a rather small contract brewing operation in New Zealand, so their beer can be hard to come by…) There's also an imperialized version known as XeRRex that I'm certainly going to keep an eye out for. In terms of barrel aged brews, Islay barrels are a bit of a mixed bag, and to my mind, often overwhelm the base beer with their smoky, boozy intensity. Some are drinkable, but none seem to approach the exalted heights of the top tier bourbon barrels, or even Ola Dubh beers aged in Highland Park casks…
So there you have it. Up next in the peated Scotch realm, if I can find it, will be Ardbeg Corryvreckan, which combines Ardbeg's typical peat smoke with new oak (typically Single Malt Scotch is aged in old Bourbon barrels)… In other news, we're really in the homestretch now, one more non-beer entry on Thursday (for tea), then we return to beer blogging with a vengeance. Looking forward to it!