I've been making what I guess you could call "slow beer" lately, stuff that takes a while to express itself. To counter this, I made a batch of Red Heady, a simple, hoppy red ale, and it just so happened to align with the acquisition of my new toy: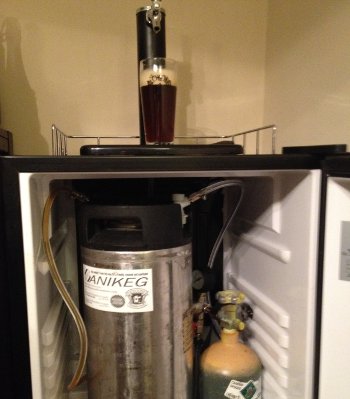 Yep, I got me a kegerator, so no tedious bottling was needed for Red Heady. On the other hand, I totally screwed Red Heady up. It's terrible, and I'm 99% sure that it's the way I harvested the Heady Topper yeast. I'm pretty sure the OG of my starter was way too high for the weak, harvested yeast. The final result wasn't infected, per say, but it did have a taint to it that I associate with weak yeast. I'll have to brew up a more straightforward batch sometime. I still have a couple cans of heady, so I could try harvesting the yeast with a much lower OG starter as well. In the meantime, I need to get Fat Weekend IPA up and running (I'll probably just use American Ale yeast for that sucker, don't want to take any chances).
Kaedrôme Saison is coming along, but sure is taking its time to condition in the bottle. I'm getting inconsistent carbonation levels, and it's never quite reached the heights of the non-funkified version (which is still drinking pretty great these days, though I'm critically low on supply, with only 3 bottles left).
Finally, the Russian Imperial Stout I made a while back seems to be coming around… and I even came up with a name for it: Bomb and Grapnel. If you get the reference, I love you. As a hint, I will note that in the book(s), the Bomb and Grapnel is a pirate-themed hotel bar that is not as cheesy as it sounds. But it's an evocative name for a big, bold imperial stout, no?
Anyway, after 3 weeks in secondary, I bottled with a FG at about 1.029, which is pretty damn high for a finished beer, but after 6 weeks, I'm pretty sure it was fermented out. The Bourbon Oak version had a slightly higher FG as well. I managed to get about half a case of straight RIS, half a case of Bourbon Oak RIS, and about 20 bottles of the blended version, with 4 bottles of what I called "transition" bottles (i.e. when I was transitioning from straight RIS to the blend, I set aside a couple bottles that were presumably not as well integrated because of the liquid already in the tubing, etc… Ditto for transitioning from the blend to full Bourbon Oak.) I opened one of the transition bottles recently, and it appears to be in drinking order: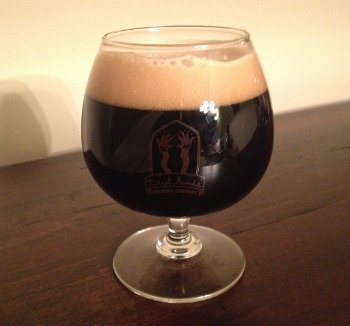 Nowhere near as roasty as I was expecting, though I wasn't really going for super roasty either. Still, if I were doing this again, I think I'd remove the munich malt and add more roasted malt (or black patent). Still, it's drinking reasonably well. Sweet, but not cloying, and actually somewhat hoppy (not like one of them India Black Ales or whatever you call them, but the hops are there), it's working pretty well for me. When I was bottling, I didn't get much in the way of oak or Bourbon out of it, but I haven't opened one of those bottles yet either, so I guess we'll just have to wait and find out. I figure another month or two and I'll be ready to drink all three side by side and see how they're doing.
After bottling Bomb and Grapnel, I took the Bourbon and beer soaked oak cubes and put them back into a mason jar with a few ounces of Dad's Hat Rye, a local Rye whiskey that could probably use some more time on oak (they typically aged for 3 months or so in small casks). And I figure the added beer would also make for an interesting result. We'll check in on that experiment in a month or two, I think.
Next up on the Homebrew front is Fat Weekend IPA, a beer I'm making for the eponymous Fat Weekend, a gathering of portly individuals from all over the northeast (and some points west) which will be sometime in mid-march. I will hopefully be able to switch up the hop schedule a bit again – hoping to use Simcoe for bittering, and Amarillo for flavor/aroma. I'm also planning on making a full batch this time. After that batch, who knows? I do want to do something similar to the three variants of Bomb and Grapnel, but with a barleywine (though I'd like to learn a little more about how Bomb and Grapnel turned out before I really commit to anything there). And I also want to make a crushable pale for summer. And maybe, someday, a Scotch ale (perhaps with the bourbon and oak treatment).