As mentioned recently, I was on vacation last week. I joined family and friends in the Adirondacks (upstate New York, for the uninitiated) for general fun and merriment. Upon noticing that Vermont was, like, closer to upstate New York than it is to Philly, I made preparations for a detour on my way home. Thus began what would become known (to, uh, just me and my 5 twitter followers, really) as Operation Cheddar, an incursion into Vermont to secure beer from three hallowed breweries: Hill Farmstead, The Alchemist, and Lawson's Finest Liquids. I'm going to spend some time wanking about the planning process, but if you're not interested in that, there's plenty of pretty pictures below (just click for bigger pictures).
The original plan was to get up early on Saturday (the end of our stay in the Adirondacks) and make a detour into Vermont before returning to Philly. Truth be told, Vermont isn't that much closer, and with the stops I was planning on making, it would still be an all day affair, but totally worth it. However, as I started looking into each brewery's availability, I realized that Saturday might not be the best day for the trip.
I monitored Hill Farmstead's Retail page (which seems to be frequently updated and the best source on availability) and it looked like Saturday would probably be crowded, but fine. However, in looking at The Alchemist's Facebook page, I observed that Heady Topper was selling out most Fridays, especially during the summer months. Lawson's distributes out of a Farmer's Market that is held on Saturdays… but usually only one Saturday a month (and not the Saturday I was going). I emailed Sean Lawson, and he said that my best bet to buy bottles was to go to one of three places listed on their site. He also mentioned to go on the day of delivery, as they tend to sell out quickly.
Basically, if I went on Saturday, there was a pretty good chance of being shut out of Heady and Lawson's. That would suck, so I pushed Operation Cheddar up to Thursday, where unseasonably cool weather lead to a lull in our activity schedule anyway. I'm happy to say, this was most certainly the right decision.
First stop: The Warren Store for some of Lawson's Finest Liquids.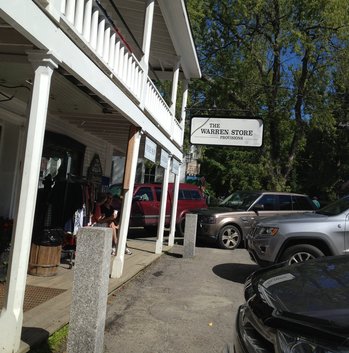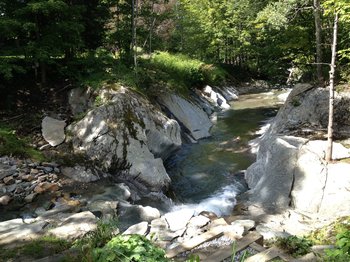 (Click for larger version)
This was a cool little store, with all sorts of artisanal foodstuffs, a bakery, a deli, wine, and, of course, a small selection of beer. It was actually a gorgeous day in Vermont, and they had an outdoor eating area right by a small stream. It was around 10:30 am, so after securing my allocation of Lawson's Double Sunshine (!!) and some other random Vermont beer that looked good, I picked up what was quite possibly the best breakfast sandwich I've ever had in my life. A great way to start the trip, and I was quite happy with the haul: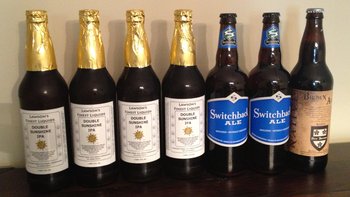 That's Lawson's Double Sunshine IPA, Switchback Ale, and Foley Brothers Native Brown Ale. The guy at the store said he had received 19 cases of Double Sunshine that morning, and that all but 3 cases had sold already. So basically, really glad I made this my first stop.
Next up, just a hop and a skip away, was The Alchemist.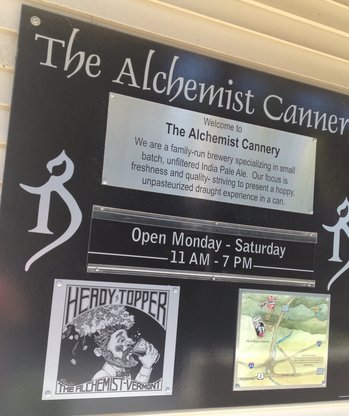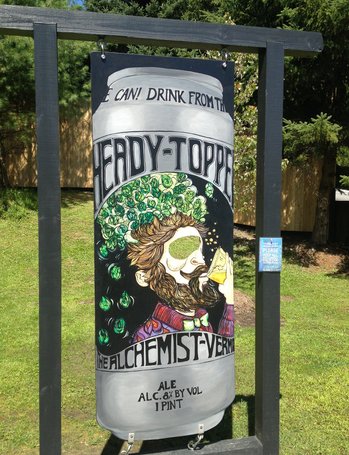 The whole place smelled like fresh hops and malt (clearly a brew day) and they were naturally doing a brisk business. In fact, I later intercepted communications from The Alchemist that they sold out their supply of cans on Thursday afternoon (and no more would be available to the following Monday), so Thursday was definitely the right day for this trip. I bought as much Heady as I could, and picked up some glasswales while I was at it: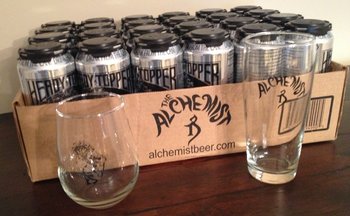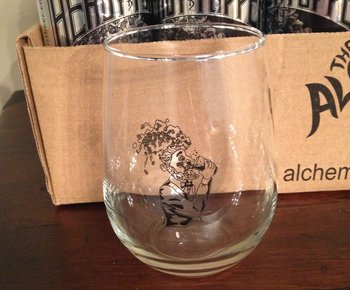 Finally, Hill Farmstead, which was a bit of a hike from The Alchemist… but it was a pleasant enough drive, and the resulting haul was quite worth the stretch!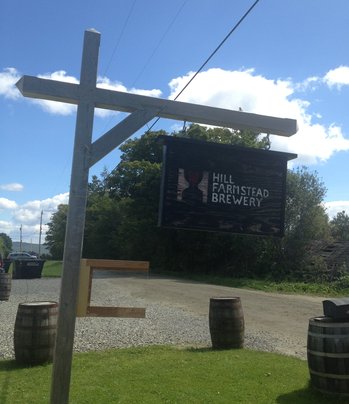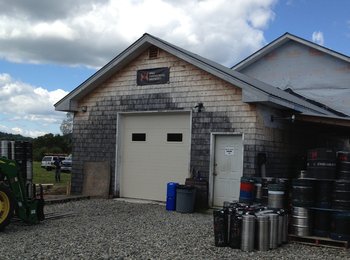 There was actually quite a line for growler fills, even with the (apparently recent) limitation of only 3 growlers per person. Bottles were limited as well, but I was pretty ecstatic with my haul:
The growlers were filled with Amarillo Single Hop Pale Ale, Susan, and Society & Solitude #7. Bottles of Vera Mae and Grassroots Arctic Saison (Grassroots is basically the collaborative arm of Hill Farmstead, where they go out and brew at other breweries), and while I was at it, I grabbed a bottle of The Bruery Sans Pagaie (HF always has a selection or two from their brewer friends, so this was a pleasant surprise, as I've never seen this one in the Philly area).
Overall, I was pretty damn happy with the trip. It took up most of the day, but I got everything I was after and more (and if I stuck to the original plan, it would have been quite discouraging). The drive was actually pretty easy and scenic (Vermont is truly beautiful, and in case you doubt that small-town America exists, you should head over to Vermont), I didn't even lose GPS coverage on my phone (but I was still glad to have backup printouts). I even got back right in time for dinner, and was enjoying the spoils of Operation Cheddar before the sun set: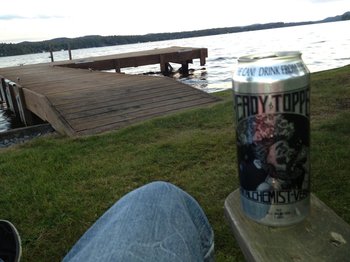 I suspect a day-trip from Philly would be a bit much (looking at at least 14 hours in the car for a round trip, and when you add in time spent at each venue and other stops, you're up to 18+ hours), but an overnight would work nicely. I actually had a lot of fun on this trip, so I will almost certainly be doing that overnight trip sometime. So that's Operation Cheddar. Stay tuned for a closer look at those HF growlers… and more Vermont beer reviews!