A few months ago, Michigan's Arcadia Ales put out a couple of big beers aged for 22 months in bourbon barrels. Rumor has it that they were Pappy Van Winkle barrels, which apparently imbues it with mystical healing powers. Or something. They had me at bourbon, but I'm easy. And to cement the deal, they waxed the bottle. Industrial grade stuff too. Had to break out the chisel and hammer, but I got there*: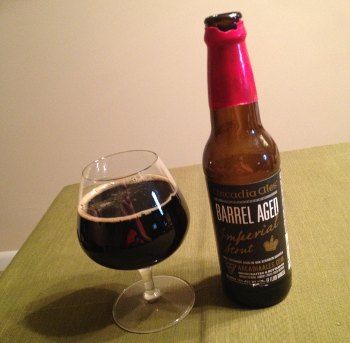 Arcadia Bourbon Barrel Aged Imperial Stout – Pours a very dark brown, almost black color with a cap of bubbly tan head that resolves into a ring that hangs around for a while. Smells strongly of bourbon, vanilla, caramel, oak. Given the nose, I'm surprised at how well the taste retains its roasty character, a little char, and don't get me wrong, lots of bourbon and booze here too. Mouthfeel has more carbonation than expected, not overcarbonated or anything, but its got a bite to it. Or maybe that's the booze, which is certainly present and potent. Overall, a very nice bourbon barrel stout. I may have rated this higher if I hadn't had that amazing barrel aged 2 Live Gran Cru beer earlier in the day. But B+ is nothing to sneeze at either, and that's where I landed on this.
Beer Nerd Details: 12% ABV bottled (12 oz. waxed). Drank out of a snifter on 4/27/13.
So I've also got a bottle of Barrel Aged Cereal Killer, a barleywine that is supposedly even better than this sucker. Review is coming soon. I just have to, you know, drink it first.
* Note to self: Don't wear an orange t-shirt whilst taking pictures of beer. Jeeze, look at that reflection.