This pair of part-time Kiwi contract brewers greatly impressed me last time around with a peat smoked beer that had no business being as good as it turned out. Perhaps not a mainstream sort of beer, it nevertheless appealed to my penchant for Scotch and made this jaded beer nerd's heart grow three times larger. As such, I picked up the only other beer of theirs I've run across, their flagship beer, Pot Kettle Black. They call it a porter, but you would probably know it better as a Black IPA (or American Black Ale or whatever the heck you call that style) So let's find out why the eponymous Pot is such a goddamn racist hypocrite, shall we?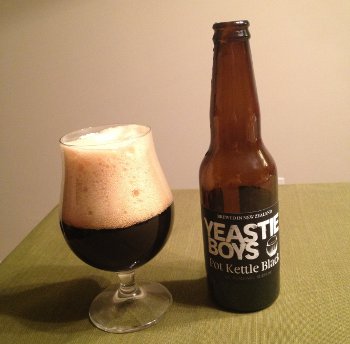 Yeastie Boys Pot Kettle Black – Pours a very dark brown color with colossal amounts of head. I swears, I didn't pour this thing like an asshole, it's just very well carbonated! Aroma has hints of roast, but is mostly herbal, spicy, floral hops. Taste has a surprising richness to it, lots of crystal malt character, again just a hint of that roast, and the herbal, floral hops are subtle, but prominent. Mouthfeel is highly carbonated, but not overcarbonated. Full bodied, rich, but finishing drier than expected (and perhaps the carbonation has something to do with that). Overall, this doesn't really fit with a typical American Black Ale (or Black IPA, or whatever you call it), but it's not really a porter/stout either. Unique, complex, interesting. A-
Beer Nerd Details: 6% ABV bottled (11.2 oz). Drank out of a tulip glass on 3/23/13.
Well, that marks two really weird, but really good entries from this obscure NZ brewery. I'm going to have to find more stuff from them, as I appear to have exhausted my local bottle shop's supply of different beers (which, at 2, wasn't exactly overflowing, but still). (I suppose I should note: despite the date and corresponding obscurity of the brewer, I do legitimately like this brewer/beer, which totally does exist and is well worth trying out. Ok, so reading that sentence back makes it seem like I'm trying to throw you off the scent of my delightful April Fools prank, but I swears, this is totally, completely serious. Well, not completely serious, as I did make that crack about the pot being a racist hypocrite because he called the kettle black, but you get my point. Right? So to recap, this is a legitimate post. For reals. Ok, dammit, is there a way to say that that doesn't come off as ironic or sarcastic? No? I should just stop? Well too bad, because now I'm worried that I'm overselling this beer/brewery. I mean, I really enjoyed it when I drank it, but the A- was probably a bit generous. Or maybe not. Maybe I should try another. Are you still reading this? I sure hope not. Then why am I still writing it? Don't try and change the subject. The real question is: why on earth are you still reading this? I think I've written more in this pointless parenthetical than I have in the whole rest of the post, so I guess I should actually stop now. It's been real. Thanks for reading, I guess. Have a good one!)