It's going to be a good year in beer: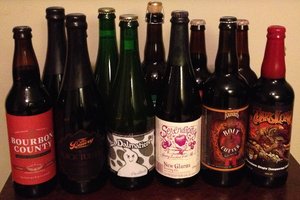 (Click for a bigger version)
For the record, that's Bourbon County Brand Coffee Stout, The Bruery Black Tuesday, Fantôme La Dalmatienne, New Glarus Serendipity, Founders Bolt Cutter, and Three Floyds Dark Lord. And that doesn't include some other recent and exciting acquisitions. 2013 is shaping up to be a good one… at least, in terms of beer.