There once was a man from Nantucket. He brewed great beer. The end.
So yeah, I need to work on my dirty limericks. In the meantime, here's some spectacular beer from that great brewer in Nantucket: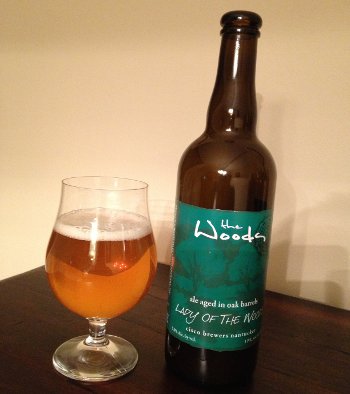 Cisco Brewers Lady Of The Woods – Pours a bright, almost glowing straw yellow color with a finger of bubbly white head that quickly subsides. The smell is filled with funky Brett, musty earth, a little more traditional Belgian biscuit and spice. Taste is very sweet, plenty of Brett funkiness, some earth in the middle, even some welcome but well balanced oak, but then that vinous Chardonnay character starts to assert itself too, finishing of with a big fruity bang. It's tart, but not super puckering or anything, actually struck that balance really well. As it warms or maybe just as my palate adjusts, that big tropical fruit character becomes even more well blended into the rest of the flavors. Mouthfeel is light, bright, and refreshing, with a little pleasant acidity. Just compulsively drinkable stuff. This is a really impressive beer, among the better American Wild Ales I've ever had and it makes me want to revisit Russian River's Temptation and due a cage match to see who comes out on top. In any case, this one's a winner. A
Beer Nerd Details: 5% ABV bottled (750 ml caged and corked). Drank out of a tulip glass on 1/11/13.
Well, I guess this means I need to seek me out some more of that Cisco goodness. Everything I've had from them so far has been their basic, regular line up. Pale Ales, Belgian Wits and the like. Nothing bad, per say, but nothing that would indicate greatness like Lady of the Woods. There's a whole series of "Woods", sour beers aged on oak, and then a series of Brewers Reserve series that also shows some promise (yeah, a promise to lighten my wallet – zing!)