The Lost Abbey distributes here, but as near as I can tell, rarities like this oak-aged, sour-cherry-soaked wild ale aren't readily available (I've certainly never seen it around here). This was first released a few years ago to rapturous reviews, and by all accounts, the hype is well deserved (or maybe not, there's always a dissenter). I got a hold of this bottle via that trade with Jay from Beer Samizdat that I've been lording over all my readers about for a month or so (don't worry, only a couple beers left in that haul). My flirtation with the sick world of sour beers has slowly been solidifying into a more, uh, solid enthusiasm, and it's beers like this that have fanned the flames: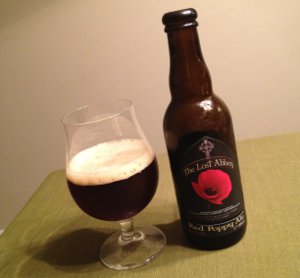 The Lost Abbey Red Poppy Ale – Pours a clear brown color with beautiful amber hues when held up to light, along with a finger of light colored head. Smells of earthy funk and a fruity, tangy sweetness. Maybe a little oak too. One of those beers that I was sniffing a lot, which would be really weird if I were in mixed company, but fortunately I felt free to explore the nose on this. Taste starts with a rich sweetness, some tart cherries and the lightest of sour twangs emerging in the middle, with some very well incorporated oak character rounding things out. Complex, but perfectly balanced flavor profile here. Mouthfeel is wonderful. Full, rich body tempered by ample carbonation, making this thing quite drinkable. Overall, this is among my favorite sours ever. A
Beer Nerd Details: 5% ABV bottled (375 ml, caged and corked). Drank out of a tulip glass on 9/30/12. Vintage 2012 C (I think that's what the label sez, it's a little smudged).
You know what this reminded me of? It seems like a more intense version of Rodenbach Grand Cru, which ain't no slouch either (it's got a Kaedrin A rating as well). This makes me want to beg, borrow, or steal some of those other rare Lost Abbey sours, like the Veritas beers, or Cable Car, or any of a handful of other rarities. Who knows what kind of success I'll find on that quest, but in the meantime, I can always track down a Serpent's Stout or other "regular" Lost Abbey ales…