Deschutes doesn't seem to officially distribute here… and yet, I see them pop up from time to time, and I felt pretty fortunate to snag a bottle of The Stoic at a local bottle shop. Truth be told, I didn't even realize it was a Deschutes beer until I looked at it a little closer, but that wax dipped cap and classy label caught my attention right away (seriously, that's just a gorgeous label). Now I just need to find a way to get ahold of some Abyss. But I digress.
The Stoic is a Belgian-style Quad, brewed using pomegranate molasses with 16.5% being aged in Pinot Noir oak barrels and 16.5% being aged in oak rye whiskey barrels. It's definitely a little too pale in color for a quadrupel style beer, though that alcohol and mouthfeel are on-point and nobody really knows what a quad is supposed to be anyway, so let's call that a wash. The truth is that this is a unique beer, and boy is it tasty.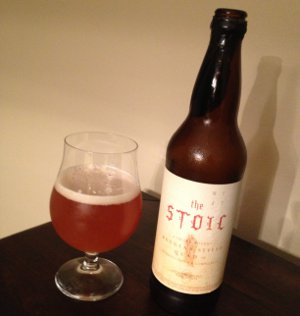 Deschutes The Stoic – Pours a clear, surprisingly light golden orange color with a finger of white head. Definitely not a traditional quad appearance, but then, quads are a style that's not really a style, so whatevers. Big, complex aromas. I get that peppery Belgian yeast strain in the nose, but I'm definitely picking up the whiskey and oak too, and maybe even a vinous character from the wine barrels too. The taste is very sweet, with a little of that richness that I typically associate with whiskey barrel aging, and plenty of booziness too. There's a lot of subtle flavor elements going on here that I can't exactly place, I'm sure some of it is coming from the pomegranate and/or wine barrel aging, but I'm not really picking that up explicitly. Mouthfeel is medium to full bodied, with that richness from the whiskey barrel peeking out, but not quite taking over, making this a little lighter than expected. It's pretty well carbonated, but there's a hint of stickyness in the finish. I get some of that warming alcohol character too. Overall, this is a very good, complex, interesting brew. As a Quad, I don't think it make sense. It feels more like a tripel that's been kicked up a few notches and barrel aged (reminiscent of Curieux). Regardless, I like it! A-
Beer Nerd Details: 11% ABV bottled (22 oz wax dipped bomber). Drank out of a tulip glass on 10/20/12. Label sez: Best By: 08/04/12 (so apparently a little past it's prime, my bad!)
I will, of course, be on the lookout for more Deschutes. Despite their stealth distribution in the area, I think I should be able to find some more, though I have no idea if anything as high profile as The Abyss will be available anytime soon.