Continuing a look at the tiny new breweries in my area, I stopped by Neshaminy Creek Brewing Company this past weekend. Another homebrewer turned pro story here, Neshaminy Creek opened doors in early June (coinciding with Philly Beer Week, which seems to be the trend for these local breweries) and has slowly been making a name for themselves.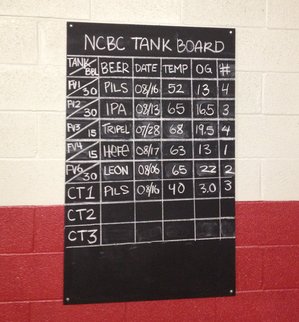 They've got a couple standards in their lineup, including the County Line IPA, which is nice, lightly hoppy with a bigger malt character than expected (this winds up being a good thing in a market full of "hop it til it's nasty" beers). I also sampled their Croydon Cream Ale, a nice, light lawnmower beer. Not really my style, but it was tasty and much better than typical light lager fare. Their Tribute Tripel just might be my favorite of their brews, a great take on the style. Filled with fruity esters, sweetness, and plenty of spice from the yeast (clove), it comes off as being well balanced, but still big and delicious, just like a Tripel should be (in the B+ to A- range of my ratings, I think). According to their tank board (pictured above), they've got some sort of Hefeweizen coming too.
But the beer that everyone's talking about is Leon… also known as the 'Smore beer. Yep, it's an imperial stout brewed with baker's chocolate, marshmallow fluff, and crumbled graham crackers. They've made a couple of test batches of the stuff, but it turns out that what I got was the first full batch (and probably the last we'll see of it this year – big beers like this tend to use up an inordinate amount of resources for small breweries). Knowing I wanted a closer look at this one, I got a growler of it and have been sipping my way through it for most of the weekend. At 11.6% ABV, it's big and burly, but the alcohol is pretty well hidden. Ah well, there goes my glycemic index. Let's take a closer look: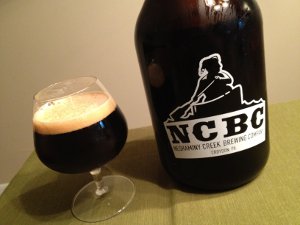 Neshaminy Creek Leon – Pours a deep, dark black color with a finger of dense tan head. Nice retention too, plenty of lacing as I drink. Smells strongly of chalky roasted malts, maybe some coffee character, but also a sorta light sweetness in the nose as well. Taste is again dominated by those roasted malts, coffee flavors, and maybe just a hint of dark chocolate. Nowhere near as sweet as I'd expect, but it's not super bitter either. As it warms (or perhaps as my palate adjusts to the roastiness), the coffee goes away and chocolate emerges more. I have to admit, I don't get any real 'smore flavor here, but that don't mean it's not good. I know it's obnoxious to tell a brewer stuff like this, but for a smore beer, I'd love to get more in the way of caramelized sugar flavors and less in the way of roastiness. Mouthfeel is heavy, but smooth, with plenty of tight carbonation. It's a sipper to be sure, but the booze isn't as pronounced as I'd expect in a 11.6% ABV beer. Very well hidden. Overall, a solid imperial stout. Not quite the beer I was looking for, but I'm sure it will make stout fanatics happy… B
Beer Nerd Details: 11.6% ABV from growler. Drank out of a snifter on 8/25/12. Beer was apparently kegged on 8/24/12, so it's about as fresh as possible.
I'm curious to see how Leon evolves over time. According to the brewer, this one came in a little lighter than their test batches, and they've also reserved a bunch to age in Bourbon barrels. This excites me to no end, as bourbon barrel aging tends to temper the big roast and coffee flavors in a beer like this while adding a touch of sweetness and complexity from the oak. This sounds quite exciting. Otherwise, I'm going to be on the lookout for their Tribute Tripel, which I think was my favorite of their beers. While I was there, I heard talk of wild yeast and other barrel aging stuff, which sounds exciting. They're mostly only on tap right now, but I believe they do some limited bottling of their brews too. Definitely a brewery to keep an eye on…