A few years ago, the Canadian brewers at Unibroue made their 17th anniversary ale. It was quite popular at the time, and indeed, I remember reading of this brew after the fact and thinking I'd never get my hands on the stuff. But apparently Unibroue kept winning awards with this stuff. Despite being bottled in 2007, it was winning "World's Best Dark Ale" awards every year. So in 2011, Unibroue made some more, affixing the bottle with the "Grande Reserve" appellation to indicate its quality for aging (they also upgraded the packaging, including individually numbered bottles). As a dark ale on lees (i.e. a bottle conditioned dark ale) clocking in at 10% ABV, it certainly ticks most entries on the beer aging checklist.
Of course, while I have been toying with the concept of aging beer, I didn't really have the patience in this case. I snatched up a bottle of the stuff and drank it just a few short weeks later. I'm not entirely sure if this beer was made in the exact same fashion as the original batch from 2007… Jay found this recent incarnation to be overly sweet, but I was more taken with it (I found it sweet, but not cloying, and even a bit dry).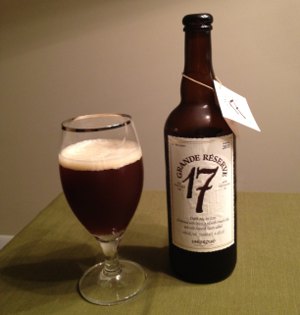 Unibroue 17 Grande Réserve – Pours a murky dark brown color with a finger or two of light tan head. Smells strongly of dark fruits and spice (clove). The taste follows the nose. Sweet, very spicy, plenty of fruitiness, maybe even a little in the way of roast or slight chocolate. Really complex flavors here, it keeps evolving. Some light, nutty oakiness is apparent (but not strong), as well as a bit of a molasses character. Mouthfeel is spectacular. Highly carbonated and effervescent, but dry enough that it's compulsively drinkable. The 10% ABV is certainly well hidden, though you might get a bit of warming from it when you drink quickly. Overall, a wonderful beer. A-
Beer Nerd Details: 10% ABV bottled (750 ml caged and corked). Drank out of a goblet on 6/22/12. Bottle No. 2011-90241. Best before 12/12/2016.
Unibroue is a brewery I tend to take for granted, and I'm not really sure why. They're readily available, and they brew some fantastic stuff (indeed, La Fin Du Monde is one of the lucky few that have garnered the coveted Kaedrin A+ grade). I think I've had most of their year-round catalog, but there are still plenty of beers I haven't tried just yet. Heck, I should probably revisit some of the other stuff I've had from them while I'm at it…