In 1969, the Cuyahoga River in Ohio caught fire. Apparently this wasn't an entirely uncommon occurrence on the highly polluted waterway, as river fires had been reported there as far back as 1868. But the one that happened about a century later caught the interest of Time magazine, who described the lowly Cuyahoga as a river that "oozes rather than flows". A few years later, the Clean Water Act was passed and everyone lived happily ever after. Oh, and Great Lakes Brewing Company made this beer in honor of the Cuyahoga, the river that burns!
Now, given the atmosphere that the beer's name evokes, I would assume this would be something like a gloopy stout, or an extremely high ABV monster, or a spiced ale of some kind. But no, it's actually a pale ale. Ain't nothing wrong with pale ales, but methinks they could have come up with a more fitting name for this one (or a more fitting beer for the name). In the end, as I always say, it's what's in the bottle that counts: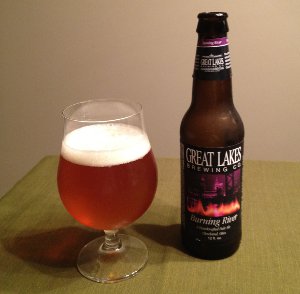 Great Lakes Burning River Pale Ale – Pours a very nice looking, clear golden color with a finger or two of white, fluffy head. Smells of earthy, herbal hops, with a sweetness also present. The taste features those earthy, herbal hops from the nose, but ups the ante with a little bit of spicy hop character in the finish, along with some light bitterness. Now, they say this beer is "assertively hopped with citrusy and piney Cascade hops", but I'm getting approximately none of that character out of this beer. Not sure what it is about Cascade hops, but they feel almost Jekyll and Hyde to me. Sometimes I get the earthy, herbal character out of it, like this beer, but other times, I get an almost Simcoe-lite feel (which makes sense given lineage), such as in Victory Ranch S. As the beer warms, a little bit of citrus opens up, but not a ton. Mouthfeel is light bodied, moderate carbonation, and relatively easy going, though not quite quaffable. All in all, a very solid pale ale… but not really blowing me away or anything. It's apparently a big award winner, and again, it's solid, but not really my fave… B
Beer Nerd Details: 6% ABV bottled (12 oz.) Drank out of a tulip glass on 6/22/12.
So Devil's Milk aside, this week's posting is shaping up to be filled with solid, but mildly disappointing brews. Things I was expecting more out of. Great Lakes always seems to fit that bill for some reason, though I've also had some stuff that's surprised me. I'm sure they'll be making more appearances on the blog, at least in beer club posts, as they seem to be a popular target there… Will tomorrow reverse the trend of B or B- rated beers. Well, only one way to find out…