It's pretty common for a brewery to have a series of sinister beer names, and Fegley's Brew Works have a few in their lineup, including this one, called Insidious. Apparently, this bourbon barrel aged version was inspired by Silence of the Lambs' Buffalo Bill, quoted as saying "It puts the potion in the barrel" (with the unspoken implication that if it doesn't, it'll get the hose again). Was it worth kidnapping the regular old Insidious and holding it hostage in bourbon barrels for a year or so? Let's find out, shall we: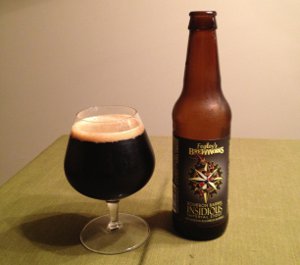 Fegley's Brew Works Insidious Bourbon Barrel Imperial Stout – Pours a very dark brown color, almost black, with a finger of tan head. Smells of roasted malt, with a hint of sweetness, presumably from the bourbon. The taste starts roasty, followed by some nice caramel and vanilla oak notes in the middle, finishing with a small but distinct kick of sweet bourbon, leaving an aftertaste of bourbon mixed with roasted malt. Mouthfeel is rich, thick, and chewy. Plenty of carbonation, but well matched and smooth. Goes down surprisingly easy. Overall, this is a fantastic beer. Not a huge amount of bourbon, but enough to know it's there, very well balanced. A-
Beer Nerd Details: 9% ABV bottled (12 oz.) Drank out of a snifter on 5/5/12.
I'm trying to think if I've ever had a bad beer from these guys… and I don't think I have. Indeed, they even have a few monsters in their lineup, like Hop'solutely (which I would love to try fresh) and the regular Insidious.