Aphrodite is the Greek goddess of love. I swear I didn't plan it this way, but I drank this on the weekend before Valentine's day, which seems mildly appropriate I guess (though Cupid is usually the one associated with the holiday – Cupid is the Roman equivalent of Aphrodite's son Eros, but I digress…) Anywho, Ommegang was my first love in the world of beer, so I always try to catch up with their specialty brews. This one is a Belgian fruit beer made with raspberry and pear, fermented with Ommegang's house strain and Brettanomyces. Not exactly my thing, but again, I like to give Ommegang the benefit of the doubt: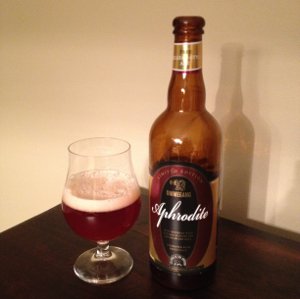 Ommegang Aphrodite – Pours a bright red color with a very light pink head. Smell is difficult to describe. I want to say it's like a fruity syrup, not quite cough syrup, but syrup is the word that most comes to mind. I also get a bit of funk and yeast here, but not quite as strong as the fruitiness. The taste has that same sort of fruity syrupy flavor, maybe a little more into the cough syrup realm here, but also a little on the vinous side. The finish isn't quite tart, but there's a bit here. Perhaps a bit on the spicy side too, though I feel like that hits more in the mouthfeel, which is a bit harsh and sticky. It's very sweet, but it finishes dry. As such, it doesn't quite reach cloying, but drinking a full 750 ml bottle of the stuff is a bit much. A most unusual beer. Not something that is blowing me away, but interesting nonetheless. B
Beer Nerd Details: 8.9% ABV bottled (750 ml caged and corked). Drank out of a tulip glass on 2/10/12.
To be honest, I'm more intrigued in Ommegang's latest release, Seduction, brewed with chocolate and Liefmans Cuvee Brut Kriek. I've been spending the past month and a half or so trying to drink down my cellar a bit, but I may have to peek my head out for a bottle of that stuff. And their forthcoming Art of Darkness is definitely right in my wheelhouse, so definitely look for a review of that one at some point.