Ok folks, coming down the homestretch here. Only two holiday beers left to review. This one is an Belgian style ale aged in oak barrels with wild yeast to give the beer a bit of a sour twang. I didn't realize that last part when I bought it (beers that say they're oak aged generally make me think of bourbon barrel aged stuff, not sour stuff, though both seem to happen frequently), so that wild ale twang sometimes catches me by surprise. This was my Christmas night, done with all the festivities, vegging out on the couch beer, and despite the unexpected wildness, it fulfilled its duty well enough: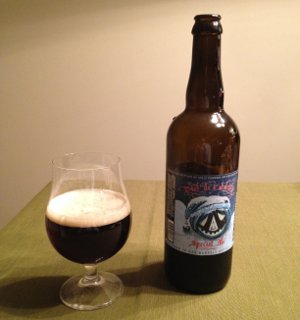 Jolly Pumpkin Noel De Calabaza – Pours a dark brown color with some amber highlights and a white head that leaves some lacing as I drink. The aroma is full of vanilla, oak, sugary sweetness, and a twang that I normally associate with sours. And yes, there is a bit of a tartness to the taste, though it's not nearly as prominent as it is in a lot of sours. The taste has a lot of sweetness and fruitiness along with some spiciness (peppery? Not notably Christmassy, but it's there…) and that wild twang emerging in the finish. The richness of the base beer's flavors can clearly hold their own with the sourness, a combination I usually like better than beers that are super sour. The mouthfeel is strong and full bodied, a little acidic, but well matched. Overall, it wasn't what I was expecting at all, but I'm enjoying it… B+
Beer Nerd Details: 9% ABV bottled (750 ml capped). Drank out of a tulip glass on 12/25/11.
I don't really know what style to call this one. BA calls it a Belgian Strong Dark Ale, but it seems more like an American Wild Ale to me, so that's what I'm putting it as. In other news, Jolly Pumpkin is a brewery I should really become further acquainted with.