For Beer Advocate's Belgian Beer Fest, the Allagash folks apparently collaborated with the hallowed Alström Bros to create two beers. First was Little Big Beer, a funky 10.5% wild ale. Then, using the second runnings of the Little Big beer, they made Big Little Beer. This one turned out to be more like a straightforward Abbey single. At least, on paper, that's what it looks like. But damn, this thing turned out to be quite flavorful, almost like a Tripel without the alcohol: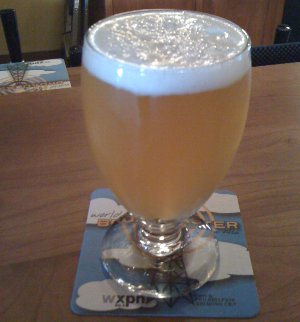 Allagash Big Little Beer – Pours a very cloudy golden color with a finger of creamy white head. I actually didn't pick up a ton in the nose (I'm assuming that's more a function of the full glass and bar atmosphere than the beer), but it did have a typical Belgian yeast aroma. Musty and spicy. The taste, though, is very powerful. Full of spice and fruity citrus, almost perfectly balanced with a nice dry finish. The mouthfeel is light, refreshing, and compulsively drinkable, with that perfect dry finish. The amazing thing about this beer is that it seemingly packs the flavor of a Tripel (or at least a Belgian Strong Pale) into a very lightweight beer. At 5.5%, I would have expected this to be much less flavorful, but it's now obvious why it's called Big Little Beer. A
Beer Nerd Details: 5.5% ABV on tap. Drank out of a goblet on 10/8/11.
I totally lucked out in finding this beer. It just happened to be on tap when I went to dinner (though, granted, I went to the Station Taproom, which always has an interesting selection). According to Greg, Allagash is considering making this a year round brew, but I'm guessing that's just wishful thinking (I would totally buy tons of this stuff if it was readily available though, so if Allagash is reading this, please go for it). Greg's also got some additional details about the recipe used for Big Little Beer, in case you're interested…