Both the name of this beer and its label make me think it's going to tell my fortune or something. Perhaps I'll open the bottle, and instead of delicious beer, I'll get a piece of paper with a cryptic message predicting my future, like "You will invent a humorous toilet lid" or "You will be aroused by a shampoo commercial" or something appropriately weird*. As it turns out, Aventinus was named after a famous Bavarian historian and fortunately, my bottle was indeed full of delicious beer: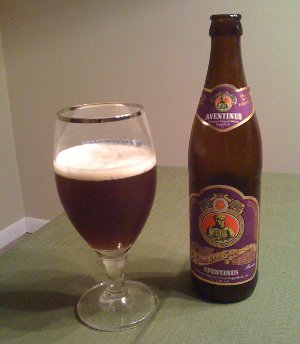 Schneider Aventinus – Pours a very cloudy, medium brown color. Smell is full of bananas and clove, but in more of a wheat beer way than a Belgian yeast way. Really wonderful, complex aroma here. Taste is sweet and spicy, some fruitiness and spiciness (clove?) and a nice, dry finish. Wheat is also present, and it even comes out a bit in the aftertaste. Drinks pretty easy for an 8.2% ABV. Overall, a really good beer and I can certainly see why it's considered a classic. A-
Beer Nerd Details: 8.2% ABV bottled (500 ml). Drank out of a goblet on 9/3/11.
I'm quite behind on my reviews at this point, but I'm also trying to slow my intake down after the whole Texas debacle vacation.
* Yeah, yeah, another stolen Simpsons gag.