I'm only a week behind at this point… This one is another from the St. Bernardus variety pack I got a while back: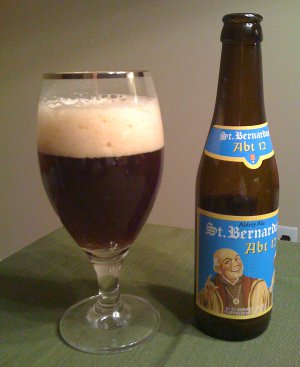 St. Bernardus Abt 12: According to Beer Advocate, this is the 10th best beer in the world. So far, I've found such high praise to lead to disappointment, but I'm hoping this will be an exception to that rule. It's a Belgian Quadruple, which is a style I generally enjoy for its rich and complex flavors. This one pours a dark brown color, tons of head right from the start of the pour. Dark fruit, bready Belgian yeast, and some spiciness (cloves) in the nose. Surprisingly even taste. Sweet and a little spicy, all the way from start to finish. The alcohol is hidden fairly well behind the malt backbone and ample carbonation, but it's obviously there. This is an excellent beer, but something isn't quite hitting me right with this one. I'm a little disappointed. For a quad, I expect a bit more of a full body and complex taste. Then again, I've been drinking pale ales and bar food all night, so perhaps my palate is shot to shit right now. I'll give it a provisional B+ with a note that I really need to try this again sometime.
Beer Nerd Details: 10.5% ABV bottled (330 ml). Drank from a goblet.
I still have four beers left in the St. Bernardus pack, and I'm seeing a couple double features in my future…